UPDATE – Decision Deferred for Father Caring for Deployed Son's Dogs – VIDEO
Friday, April 18th, 2008 at 9:34 am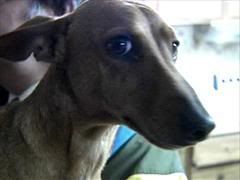 Looks like thing may have gotten a little hot in Cumberland County, NC, after Henry Carroll's story hit the media and internet. Henry Carroll's son is a soldier, deployed and fighting in Iraq. When his son Adam was deployed, Henry promised to look after his son's two dogs. Seems Cumberland County officials had some problems with this since Henry already had three dogs of his own and they cited him for running a kennel without a license. What total and stupid bureaucracy!!
Now there's some serious backpedaling going on!
Last nite was supposed to be the hearing where Henry Carroll would be able to challenge the bureaucrats, have his say and state his case. It didn't happen that way. Carroll didn't get a chance to plead his case… but he also didn't lose any of the five dogs.
The county said they'd need more time to research the situation and they will "defer action after the county attorney said he'd need more time to clarify issues between several county agencies" so all the dogs are still safe and sound with Carroll.
"I didn't expect that," said a stunned Carroll.
The ordinance limiting dog ownership to three animals has been on Cumberland County's books since 1972, but a shelter operator who was one of a number of people who came to support Carroll said that law's no good.

"It's a badly written law and similar laws have been held unconstitutional in many other states," said Linden Spear, director of "The Haven" animal shelter.""We hope the county realizes it's a badly written nuisance law and repeals it immediately."

The controversy started when Carroll's son, Adam asked his dad to watch his two dogs while he was deployed overseas in Iraq with the 101st Airborne. Henry Carroll's landlord said that he had no problem with that.

"He asked me if he could do it when he found out his son was going overseas," said Mike Urian. "At the time I didn't see any violation. I didn't think the county ordinance would count possession as a violation. I thought ownership would be a violation."

So for now, Carroll goes about caring for the dogs and waits for his next public hearing.

"I'm relieved," he admitted. "The burden ain't lifted yet, but I got more time to prepare for it now." (NBC17)
So we'll keep an eye on happenings in this case and hope that the county sees their 'error' and lets things go with Mr. Carroll and takes a look at what may be an ambiguous and outdated law. Maybe they'll even get a heart in the meantime!
Email This Post
Like this post? Subscribe to my RSS feed and get loads more!