UPDATE – Marc Andre LaPorte; Sentenced & Dogs Safe
Wednesday, May 7th, 2008 at 7:18 am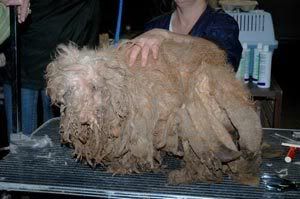 In November 2005, over 100 dogs were rescued from a Blainsville, Canada home that was later demolished due to such extreme deplorable conditions and these were the conditions these dogs were living in. There were corpses of deceased dogs in different stages of decomposition within a sea of filth, as the living dogs ate their remains.
Owner of the 'Hell Home' and breeder, Marc Andre LaPorte actually petitioned to have 18 dogs returned to him. A petition was circulated and received over 14 thousand signatures in an effort to protect the dogs from being returned to LaPorte. The public's cry for justice and safety for the dogs was heard. Although under the law, maximum punishment would never amount to much more than a wrist slap, the judge did what he could do.
Judge Sirois sentenced Laporte to 200 hours of community service (the maximum by law is 240), plus a fine of $2000. He will serve THREE years of probation during which he is NOT ALLOWED to own a dog. The best news is that the so-called Red Collar Dogs (the 18 wires Laporte still owned and wanted returned so he could breed them again) are safe. The Judge severed Laporte's ownership rights and said he would send him to jail if he contacted any of the foster families.
Sadly, after three years, he can potentially start his breeding business again.  We can only hope the law keeps an eye on him.
See the video news report HERE.
Email This Post
Like this post? Subscribe to my RSS feed and get loads more!