Update on 16 Year Old Blind Chow at GA High Kill Shelter
Monday, September 17th, 2007 at 10:32 am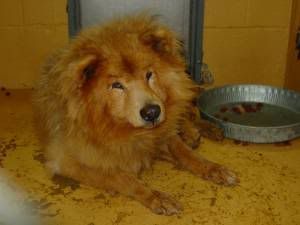 Please see UPDATES at the bottom to see what's happening and how things are going. And this sweet dog has a name now, Morgan! 😀 And Morgan is a female!
I just got the greatest news on the 16 yr old blind chow mix that was dumped at a high kill shelter in Georgia, Spaulding County Animal Control Shelter!! They're gonna pull the little guy outta that horrible shelter TODAY!!!!
Had to pass this along!! Here's the email I received;
Saving Furry Friends application for the blind chow has been approved and Sarah from Warner Robins Animal Rescue is going to get him today!!! They are in need of funds for the vetting and transport.

Do you ever ask for donations from your people? if so, this is the link to donate. Even if just one dollar, it adds up. These two rescue groups are working hand in hand to save him. But they work off donations.

Here's the 'Chip-In' link: Donations
Here's their original post From Saving Furry Friends and Warner Robins Animal Shelter;
Great news SAVING FURRY FRIENDS and WARNER ROBINS ANIMAL SHELTER are working together to go pull this sweet guy from the shelter today! Saving Furry Friends will be taking this senior into their program, and I (Sarah from Warner) am going to be pulling him and foster him at my home until they have more space available at SFF. If you would like to help, please leave donations at either of our pages (chip in link above), all collected money will go to getting this old guy the vet care and transportation and grooming that he needs. If you can not donate please repost this and help us spread the word that we are all team working to get this guy to a safe and comfortable forever home where he deserves to live out his life!

Every dollar Helps………if you cant help financially, then please repost this updated bulletin!
Isn't this the greatest???
Thank you Chris for all your help, information and updates and thank you SFF and Warner Robins!! And I want to thank everyone who worked to get the word out and who cared enough to make this happen. Without all the love, caring and combined efforts, this never could have happened!!


Please, if you can help with a small donation, even a dollar or two – Donations
Any funds donated over and above that needed for the care of the chow will be used to rescue other 'last chance' dogs by Saving Furry Friends
**************************
Just a quick update – 9/17/07- 1 pm – Just thought I would let you know that I just got off the phone with Caroline at Saving Furry Friends 🙂 What a wonderful and caring woman!! In the midst of picking up her son and trying to take two dogs she just rescued to the vet she made time to talk to me and let me know what was going on.
Donations are coming in, slowly but surely, and I have no doubt the goal will be reached shortly. Sara from Warner Robins Animal Rescue is on her way right now to pick up the chow. He will stay with Sara for a few days then Caroline will be picking him up and bring him to his new home at Saving Furry Friends!
Caroline has a wonderful set up in rural Virginia with acreage and plenty of room for the dogs and will be making special provisions for this guy so that he is safe and well cared for, well loved, gets plenty of attention. She said he will not be adopted out because of the special care he will need, with the one possible exception of Sara from WR. If she falls in love with him, as long as she meets all of Caroline's stringent adoption requirements, she would be the only exception.

I'll be calling Caroline back tonight and I'm sure she will give me an update and I'll pass the info along.
***********************************
Another update – 9/17/07 – 4 pm – Just got a call from Caroline from SFF and the latest news is not quite so positive, nothing dire though as far as we know now.
Sara from WR just picked up the chow and it's obvious that no one was made aware of the shape he was in. Yes, he is blind, but he's also deaf and lame, the poor guy can barely even stand let alone walk. And to make matters even worse, he is so matted and caked with feces and dirt and urine that the first place Sara is forced to take the poor guy is to a groomer to have him cleaned up because no one will touch him in the condition he's in right now. After that he will be getting vetted to see exactly what kind of shape he is really in.
He is not stable to travel right now so until he is Sara will personally be taking care of him. Sara really cares about this boy, she just drove many hours each way to pull this guy out of that horrible place, and whether he stays with Sara or is transported to SFF, which if he can travel, he will be, he will be given all the care and love he could possibly want or need.
I will continue to update as I get information. I know there are many people who have been following this and care about what happens.
****************************
Update – 9/17/07 – 10 pm – Just spoke with Caroline again. Sara wasn't able to get Morgan, yup, that's his name now, Morgan, into a groomer today. She took him but they couldn't fit him, so she has a appt set up with the groomer and vet tomorrow. She did do her best to cut some of the worst of the mats off of him and clean him up some to make him comfortable. The one thing Sara did find out when she clipped him was that he is somewhat emaciated.
So I'll update again tomorrow after Morgan visits the vet. He'll being getting the regular routine of shots but will also be having additional tests for his care.

Everyone say your prayers for Morgan, that the vet finds nothing serious like heartworm, and that some good food and some loving care will put him on the road to recovery.
Oh, I should have some pix of Morgan tomorrow 😀
***************************
Update – 9/18/07 – 8 am – Got an email this morning with the latest and how things went last nite. This is written by Sara from Warner Robins Animal Rescue who picked Morgan up yesterday. (thanks for passing this along, Chris)
Monday
Everyone…I would like you to meet Morgan, formerly known to all as "Blind GA Chow" I picked him up from Spalding today and after getting lost on the way there and on the way back. But we have made it back to my home safe and sound. He was so scared when they put him in my car that his little teeth chattered the entire 2 hour drive back home. Morgan had a grooming appointment for earlier this evening, but due to my horrible map skills we missed the appointment and have made another for first thing tomorrow. He is feeling much better now that he is in a safe environment, compared to the shelter he was pulled from.
Well thats the good news, but the bad news……
there is always a but 🙁
Morgan Is completely blind in one of his eyes and has a bad infection in the other. They were both gooped almost shut when I picked him up, but after washing his face, and cleaning all the "goopy yuck" out of his eyes he is able to see partially. He can see a dark object against a lighter object and visa versa. He has some major hearing loss, but it is to soon to decide just how much. When I picked him up the shelter said he couldn't walk, that he could barely stand. We had to carry him to my car, and I had to carry him out and around from stop to stop. He just barely picked up his own weight for the first time by himself today at about 9:00pm and from that point on he never stopped walking/ wobbling around until he fell asleep. They also said that he had no bowl or bladder control. He was covered in urine and feces when I picked him up today. He has eaten dinner for me, but before he could even think about going potty before he was knocked out asleep due to his stressful day. I guess we will see about his bathroom habits tomorrow. But anyways he is horribly thin, I doubt that he weighs more than 10lbs. at this point. He is nothing but fur, tons and tons or matted fur. I have never seen a dog in such bad condition in my entire life. I am so happy that we got him out of there.
Today was a great day for Morgan, and hopefully tomorrow will be even better!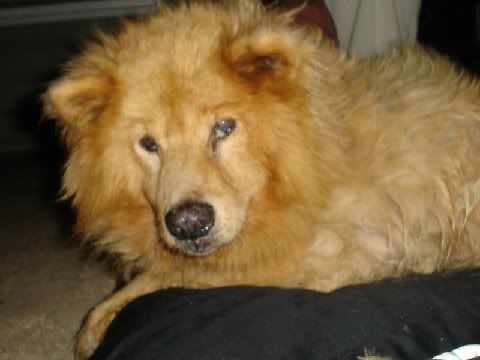 Picture of the mats and flea dirt all over his body Uh! It makes me sick that someone could let him get like this!
Tues am
We have a vet appointment in 45 min. so I find out everything then. I have been in tears all morning. I have called almost every groomer in town, and they wont help him. They dont feel comfortable saying yes and then not being able to do it. I have a friend that just started grooming and he is going to go see her at 11:30 she is going to see what she can do and just try her best. Neither of us slept at all last night. He kept crying and barking (trying to bark that is) all night in his dreams. This morning he did go potty outside and eat his breakfast. He met one of my submissive female dogs and had to show off for her by wobbling like a peg legged pirate all over the back yard. He is so beautiful though. The pics I posted do him no justice. He is still pretty scared I was filthy yesterday when I picked him up and carrying him around only made me nastier, but by the end of last night he knew my smell and had no problem with me petting him and picking him up. But I took a shower this morning and now he has no idea who I am again. 🙂 He'll get used to me again I am sure though. He is so sweet and acting so grateful. I really, really appreciate you and your friend stepping in to help me with him. There is no way it would have ever happened without ya'lls donations.
-Sarah
If the vet visit and the groomers go well I will send you some pics of him all spiffied up.:)
Well, all in all, not too bad I don't think, considering what I was expecting. Not sure about where Sara says he weighs 10lbs, might be a typo. Doesn't seem like he's really 'lame,' probably arthritic and no doubt very weak. Hopefully with some good food and TLC, that will improve. Morgan looked pretty content and cozy in the pix 🙂 and his dinner didn't look too bad either. I doubt he's ever eaten anything like that before. Seems he's going to be getting quite spoiled and pampered if those pix are any indication. 😀
I'll no doubt hear more later an of course I'll post it! 🙂 Just hoping and praying we get a good vet report for Morgan!
***********************************
UPDATE – 9/18/07 – 9 am – We've got the first report from the vet, good and bad.
The good news is that, as Sara thought, Morgan is partially sighted. He does have a bad infection in one eye that will need treatment.
Now for the bad news, Morgan is heartworm positive. They're doing more tests to see how bad it is and will have the results later today. If, if, if, it is a recent infection and he is 'light' heart worm positive, the treatment is much less harsh and aggressive. If the vet who is evaluating his him feels he is strong enough to withstand the treatment, they should be able to take care of it. He is not symptomatic at this point.
If the heartworm infection is more serious they will have to re-evaluate at that point. He most likely would not be able to handle the treatment which would need to be very aggressive. What may happen then is that they would basically 'hospice' him, just care for him and keep as comfortable as possible, as long as possible. As Caroline said, they would not put him through six months of hell for possibly just a matter of months to live after. His comfort is a priority, he's been through enough, now is his time to be love and cared for.
He may have an anal gland infection. He most likely does have arthritis.
Right now they're waiting for the results of the heartworm test to see how bad it is and other blood tests. As soon as I hear more, I'll post it here.
*************************
UPDATE – 9/18/07 – 11 am – Got a couple of pieces of news. The first and best is that the heartworm is 'light' and confined just to the heart. This mean a much less dangerous and aggressive treatment and the vet, Dr. Hodges at Critter Fixers in Bon Aire, GA, feels that Morgan is strong enough for the treatment and will be starting on a 6 month regime to take care of the problem! 😀
And now for the second bit of news which should give everyone a good laugh! Morgan is a FEMALE!! How the shelter ever made that mistake I'll never know. Admittedly she was severely matted but still. So now we all have to get used to saying she instead of he. Good thing they picked a nice unisex name for her! 😀
Morgan is at the groomer's right now and hopefully I'll have nice new pics of her to show off later. Caroline will also be letting me know more on the meds she will be on including pain meds she will need for the rest of her life for the arthritis, and she'll be passing along some info on the med bills so everyone knows where we're at.
Keep tuned for updates 🙂
*******************************
UPDATE – 9/18/07 – 2:30 pm – Caroline wanted me to pass along some information on where the donations are going. She doesn't want there to be any concerns about that and is very upfront when it comes to the money, keeps receipts for every penny in and out.
The vet visit today was $342, and the grooming $60. she is making special provision for Morgan for when she is healthy enough to travel to SFF including a specially set up run, so that she is safe when she is outside, for her which she is getting today, $199 and she has set aside $200 for travel expenses for when she gets Morgan and that will not happen until she is completely ready and healthy enough to travel. They're not taking any chances with this girl! 🙂
Now this does not include the travel expenses that Sara incurred or the fees in getting Morgan out of the shelter. It also does not include medications and incidentals that Morgan will be needing right away and in the future but trust that Caroline is keeping an accounting of everything and will have all the information together to share if anyone wants to know.
Now let me tell you a little about the set up at SFF. It is a small, private, no-kill, shelter and sanctuary. They have 4 1/2 acres in rural Virginia with a shallow creek running through the property. There is a wonderful set-up with kennels and outdoor runs and all of the dogs are indoors at night, although it seems to me that whenever I talk to her they seem to spend plenty of time indoors during the day too. All of the dogs get plenty of time to just run around the property, on or off lead, depending on the dog. All of the dogs are treated like family members whether they are there for a short time or for an extended period of time.
At the moment, SFF has a total of 18 dogs and 4 puppies, which will soon be going to their new homes. Four of the dogs are permanent residents, three have some medical problems.
All the dogs that SFF rescues and adopts out are spayed or neutered and fully vetted. Caroline also works with someone who foster some of the dogs and trains them some as well. Her friend does tease her that when she takes in one of the dogs to foster after it has been at SFF, she has to work on the training because the dogs have been so spoiled and pampered that they all seem to feel the couch is where they belong. 😀
Anyway, just wanted to take a minute to give a little bit on the financials so those of you who have so kindly and generously donated know where the money is going and what is being done with it and also wanted you know know a little about the home that Morgan will be going to when she is ready. Caroline does have experience in dealing with dogs who have problems and is already getting things prepared for Morgan.
**************************
UPDATE – 9/19/07 – 9am – Well Morgan made it through the vet treatment and groomers and you can tell she's feeling better because she starting to get a bit if an attitude, she wasn't pleased with the clipping. The great news is that since she been clipped has some good food and good rest and some arthritis meds, she's moving around pretty good.
What led them to believe she was 'lame' was the effects of three days laying on a cold concrete floor, weakness, and the fact the she was so badly matted that it made it difficult to move her legs. Sara report that she feels great with her new haircut, she's moving around well, showing interest in things and even got that tail wagging last night! 😀
I do have some pic but I warn you, as Sara said, this has got to be the ugliest haircut ever!! The had to clip her to the skin because the matting was so severe so our girl is bald and very skinny. They clipped two full bags of fur off her. But the fur will come back and no doubt beautifully and Morgan is on a high calorie, high protein diet to get some muscle and meat on her.
The first few pictures are from when they are going to the vet appt. She's looking pretty calm and content now. Amazing how much difference just a day makes!
In the car waiting for the vet office to open
In the Vet's office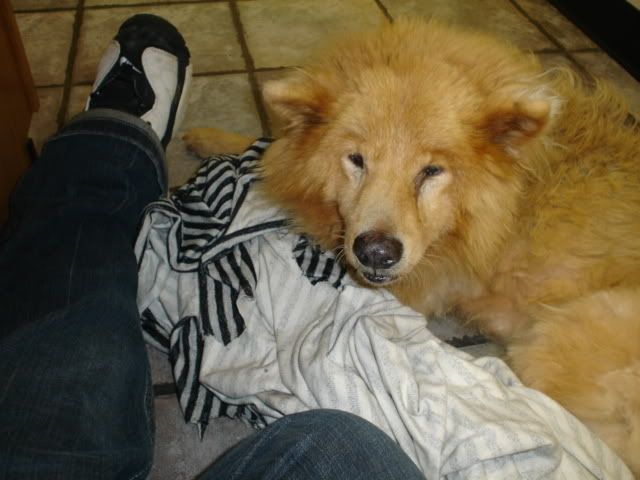 A clip break… she's not too pretty right now and won't be for a while but just imagine how much better she must feel!!! All the itchies gone and she can move freely.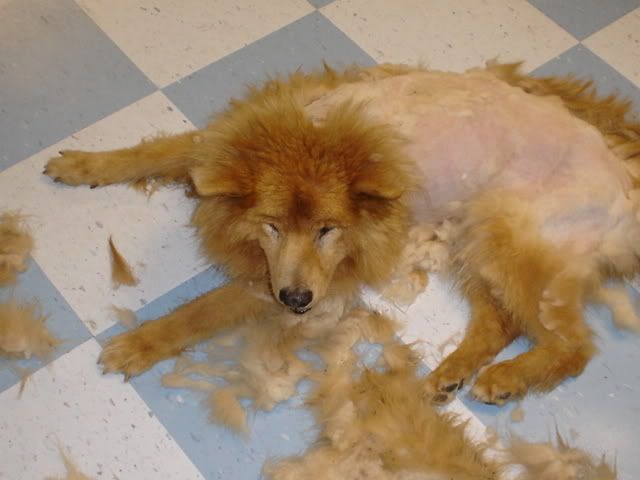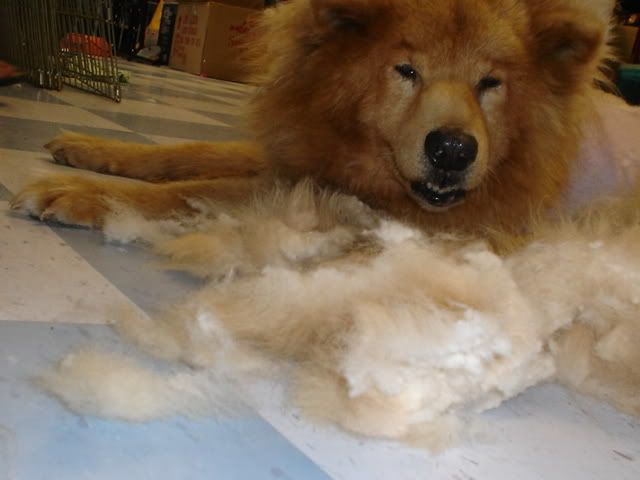 A pooped pup on her way home – Sara described her as "white whippet wearing a bear mask and eskimo boots 🙂 "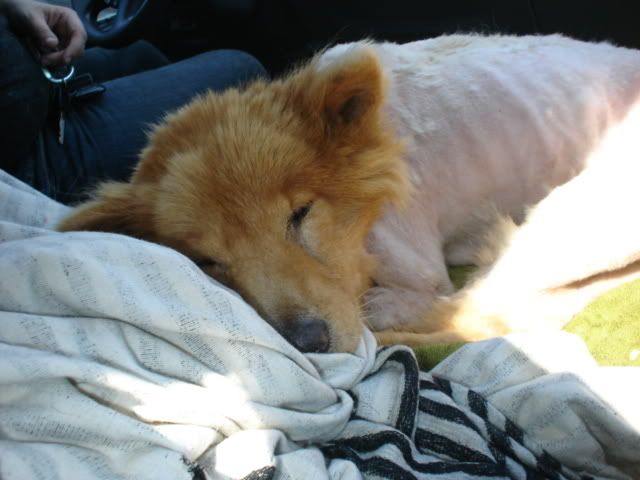 After a nice nap she's checking things out. She's getting around quite well, very curious and alert and actually a little spunky with all the matted fur gone and all the dirt, fleas and everything cleaned off of her. 😀 Not a pretty picture right now but a little time, good food and TLC are going to continue to work miracles for her.
A good nite's sleep 😀
It's truly amazing the resilience this girl has! From an almost lethargic and terrified dog to an alert, curious and pretty mobile girl in just a matter of days. Now that she's getting some strength, she is showing some attitude.
She's not too please with Sara's other female at the moment but they want to give her some time to adjust for now. This is a dog that most likely came from a chained up outdoor environment and was little socialized so Sara is spending a lot of time with her and get her used to being around people and other dogs. She's really doing pretty good when you think of where she was just a couple of days ago. 😀
*********************************
UPDATE – 9/21/07 – 8:30am – Just wanted to let everyone know that Morgan is doing pretty good. She's eating about 6 times a day, small, high protein, high calorie meals to help her gain some weight. She's gaining strength and is up and moving around with little to no problems at all now. It seems like Morgan has not had much human attention, she likes head pats and rubs but isn't too sure about body pets yet. So Sara is working on that, getting her used to attention and love.
She's been de-wormed and hasn't been showing signs of being in pain or discomfort. She's tolerated her first heartworm treatment pretty good.
Bottom line is that she doing well, she's happy and interested in things around her, especially food and attention, and she's getting used to the comforts of home, good food and TLC. We're going to keep hoping for continued positive improvements for this sweet girl, she's been through so much and had such a rough life.
Dr. Hodges will be keeping a close eye on her to make sure she continues to tolerate the heartworm treatments and that no other problems arise. Morgan is very much being handled with 'kid gloves.' The main priority is that she is happy and comfortable, for how much ever time she has, she will know what it is to be loved and cared for.
*****************************
UPDATE – 9/21/07 – 10 am – Morgan just got back from Dr. Hodges for a quick follow-up visit (Caroline wanted me to pass along that the cost was $66 so you all know where the $$ you are so generously giving are going) and Dr. Hodges said Morgan was doing so well that he was joking with Sara that she couldn't be the same dog that he saw on Tuesday! 😀
****************************
UPDATE – 9/21/07 – 1:45 pm – Got some very cool news!! Sara was out today picking up doggie stuff and ran into the trainer who trained her other dogs and started talking about Morgan. Now, since Morgan has most likely spent her entire like outside at the end of a chain and mostly alone, she is not house trained or socialized so Sara wanted to get some tips on how she should handle these issues considering that Morgan is partially blind and deaf. And the 'cool news?' The trainer agreed to work with Morgan one-on-one and in class for free!!
As it is, aside from the heartworm, which is being treated just fine so far, Morgan is doing great, getting around well and you can just tell she wants to be part of life. With some gentle training, there's a good possibility that she can be housebroken which will make things easier on everyone and the socialization skills will make it easier for her to be around other dogs and people. Caroline and Sara want Morgan to be able to get as much out of life as possible. This is not a timid, shy or scared girl. She may or may not even be 16, who knows? If the shelter couldn't tell if Morgan was male or female, who knows how old she is? When you look at how fast she is bouncing back it definitely leaves you to wonder! 🙂
*****************************
UPDATE – 9/22/07 – 9 pm – Got a quick update from Sara and some great new pix of Morgan.
No really big new, just a few updated pictures of Morgan for all those asking for them! Thanks for keeping her in your thoughts. She is doing really good. She loves roaming around the back yard, and loves her bed even more! I am telling you though, she had so much energy today. She just walked and walked for hours. She followed my dogs around for a majority of that time. I guess she has decided that she wants to make friends now 🙂 She got a collar today, you can see her in it in the pics. I thought she needed something a little girly. I don't think I could have fallen for this little girl any faster. She astounds me! She has so much life in her, she just needed some love and care. In the five days that she has been with me, I feel like every morning I wake up to a new dog. She gets so much better as every day passes. Keep little Morgan in your prayers, and once again, thanks to all that have been wishing her the best and helping her situation. -Sarah
Here she is trailing behind Bella
Checking up to see what Bussy is doing
She sees something interesting up ahead – I love this picture!!
She has decided to investigate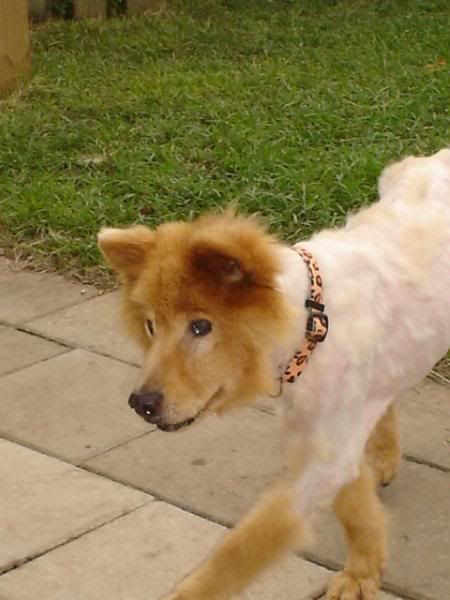 This is what caught her attention from across the yard. So Funny! She just stood there and looked for a good while. I wonder what she thought.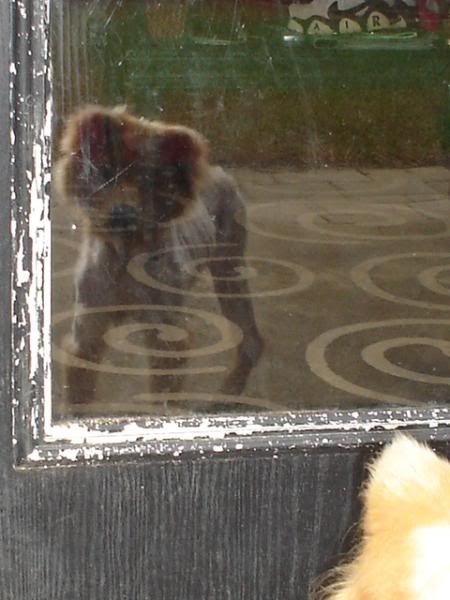 Aren't these pictures just wonderful? The difference is beyond amazing from the dog that was laying almost lethargic on a concrete shelter floor just a week ago! 😀
******************************
UPDATE – 9/26/07 – 8 pm – Sara sent some wonder new pix earlier today of Morgan, sorry I'm just getting them up 🙂 She no longer looks like skin and bones! In just over a week she is already putting on some noticable weight. It just amazes me to see how alerts she looks for an 'old blind' dog… LOL
This is from Sara – Just a buncha pics of Morgan taken with my good camera. Thought that you would like to see them. She is doing good. She has just recently discovered sliced cheese. You should see her eyes light up when she smells it….It is so funny! She gets so excited you can see the whites of her eyes. That is what she is being rewarded with for potty training, and for approaching people rather than always being approached. She is doing really well though, and I thought that you would enjoy the pictures.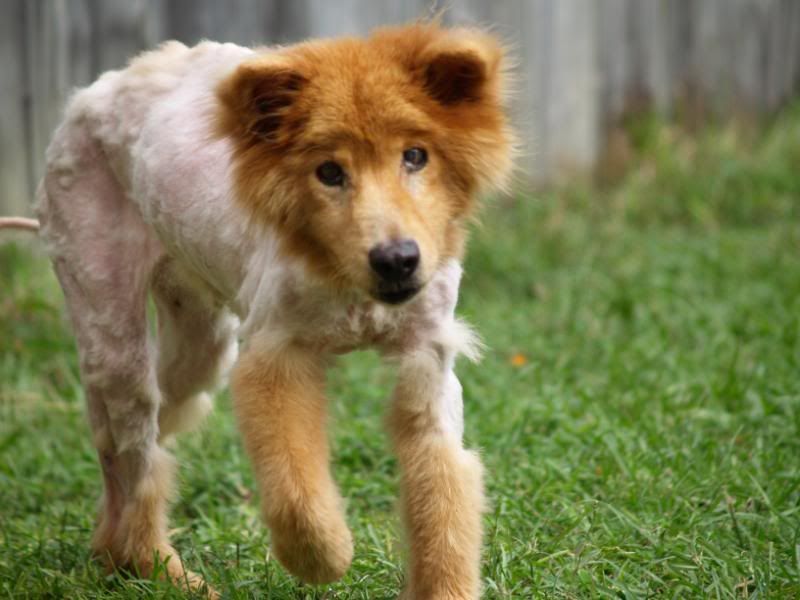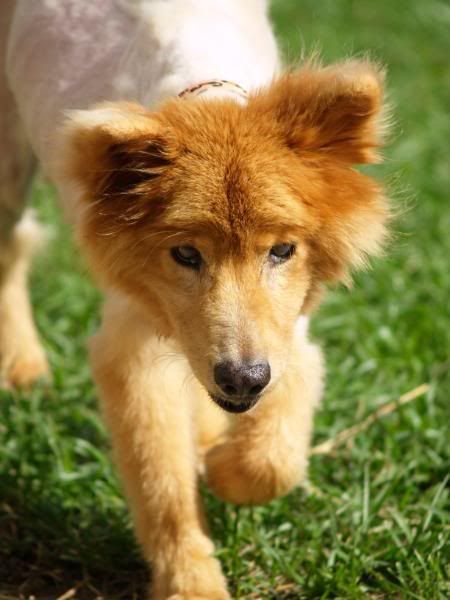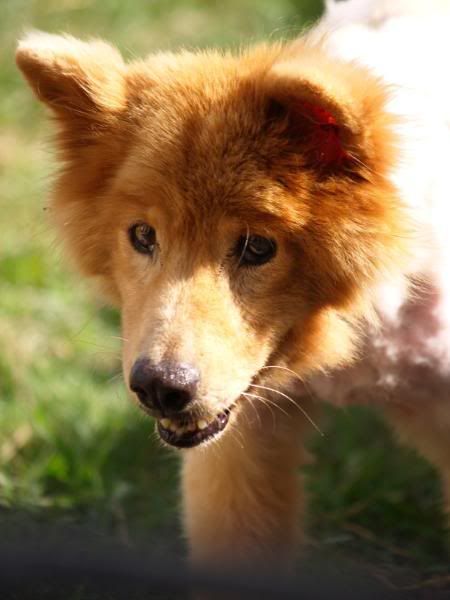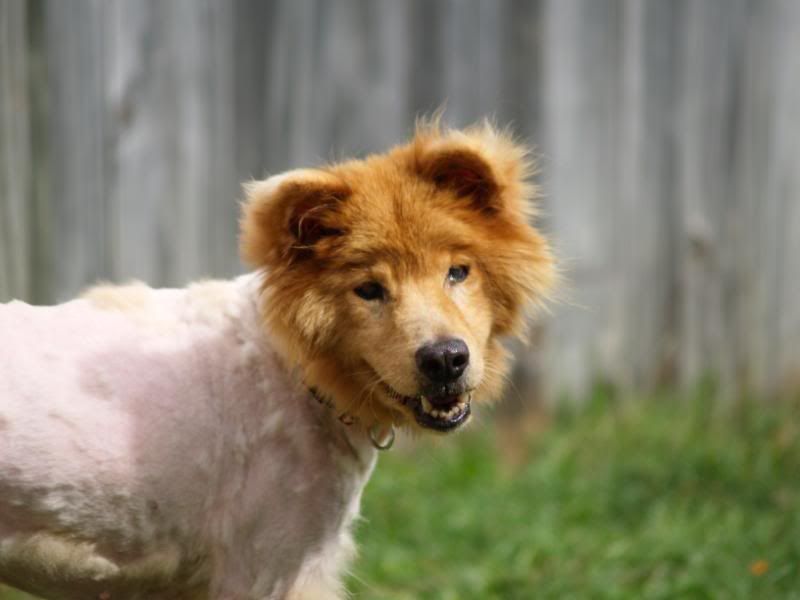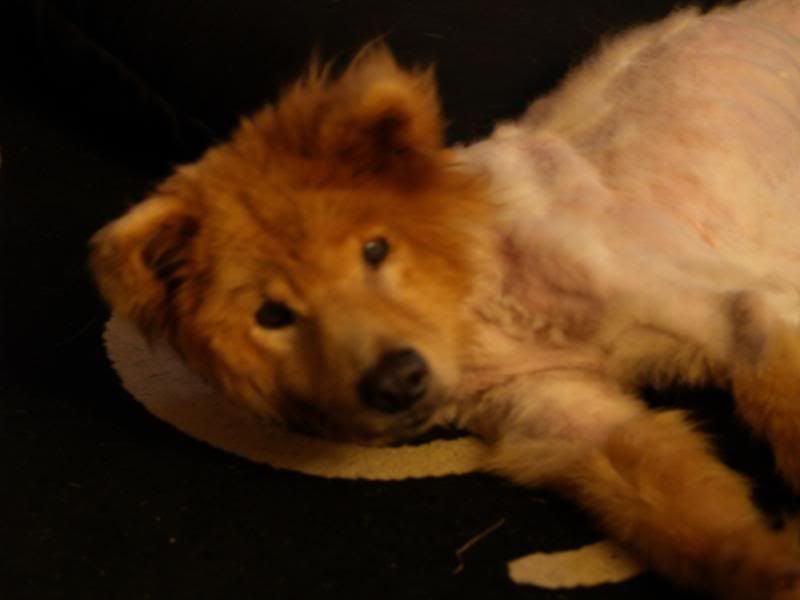 *********************
10/14/07 – Sarah posted a comment and here it is in its entirety and a couple of new pix too! 🙂
From Sarah: She has put on a few more pounds since the last update photos that I posted. I was so happy… She gave me a puppy kiss for the first time since I have had
her yesterday when I was laying her down for a nap. She is finally starting
to enjoy my company. She is also walking around much faster now that she is
gaining some muscles on those little legs of hers. She has started walking to
the door occasionally when she wants me to let her out to go Nascar (circling
the backyard) or go potty. The beginning signs of potty training…Im hoping!
Overall….she is doing very well!
**Check out the cute little pink bow!**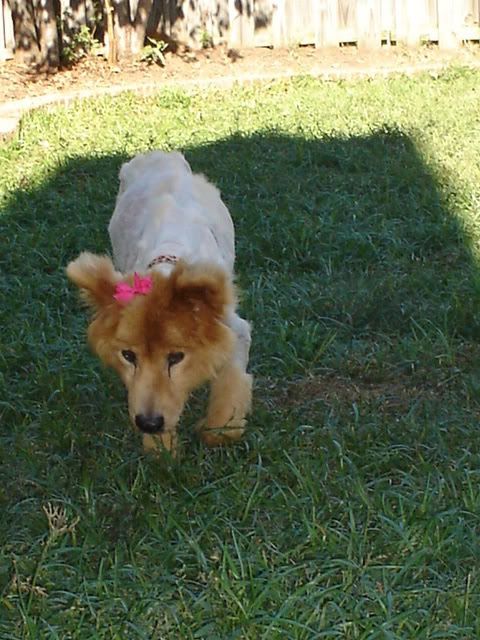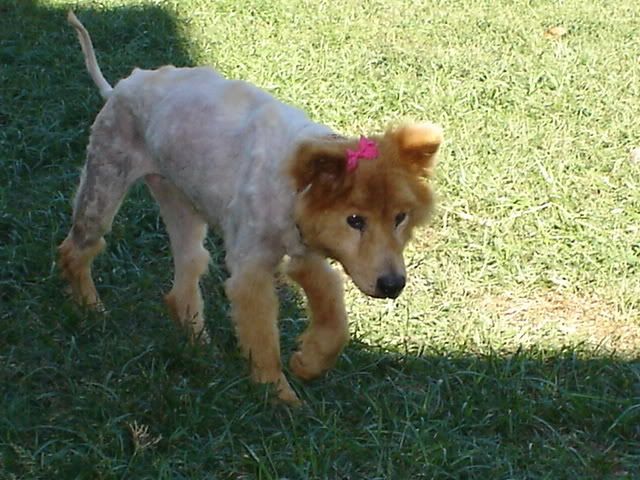 One of her on an early potty break in her coat…so she doesn't get a chill 🙂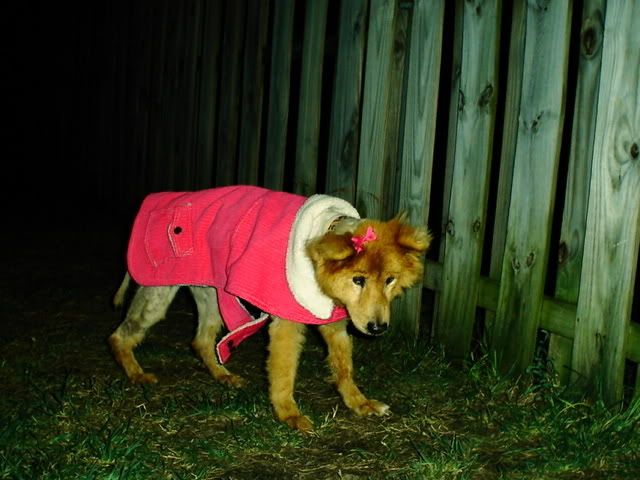 Thank you all for keeping her in your thoughts and in your prayers…..I love
how it seems like the world came together to help that poor old dog in a
picture. She was given the chance that few dogs that were in her position have
ever been given, a chance to live out the rest of her days slightly spoiled
with love, comfort…and a never ending supply of food, kisses and hope….and
both her and I thank all of ya'll for that.
-Sarah
**********************************
Email This Post
Like this post? Subscribe to my RSS feed and get loads more!