Update on 6 Month Old Puppy Found with Leg Hacked Off
Monday, August 20th, 2007 at 7:07 am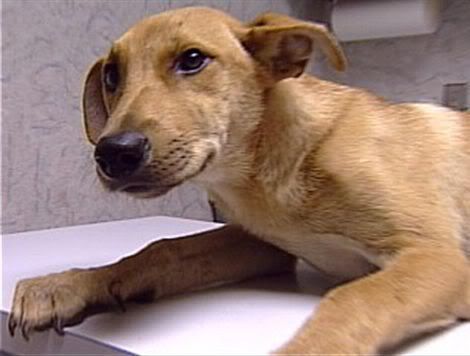 Misty, as the 6 month old puppy found with one of her hind legs hack off was named, is still being cared for at the Raytown Animal Hospital. This sweet tan shepherd mix girl was found last Tuesday morning at 11th and Newton wandering, hungry and in pain.
Animals advocates are raising an reward in the effort to find out who deliberately cut Misty's leg off. Currently the reward stands at $3000 for information leading to the arrest and conviction of the person who did this.
"It looks intentional, because the cut is clean," said Michelle Dormady, president of Spay and Neuter Kansas City. "There are no bite wounds and no ragged edges."
She adds that it looks like Misty had been nursing the amputated limb for about a week and she had to have surgery to amputate higher so that she didn't put weight on the wound.
Hundreds of people have offered to adopt Misty but Dormady hopes this story will inspire people to also consider the thousands of dogs in shelters that also need homes.
Spay and Neuter Kansas City will be putting up reward posters in the area that Misty was found in hopes that it will lead to more information and also to finding the person who cruelly abused this poor puppy.
"I hope the person responsible is apprehended, because animal abuse possibly leads to other abuse," she said. "We need to say that things like this are not going to be tolerated."
Email This Post
Like this post? Subscribe to my RSS feed and get loads more!