Update on Boo Boo, Cornelius Van Der Vies Dog
Friday, May 18th, 2007 at 11:25 am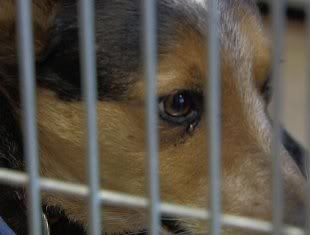 Many of you may have read my post, Homeless Man Protects His Dog Unto Death, the story of Cornelius Van Der Vies who died defend his dog, Boo Boo, from the attack of another homeless man and wonder what happened to Boo Boo.
This week I got in touch with the San Jose Animal Care Center and inquired about Boo Boo.  Leslie Tinsdale of the Center got back to me and this washer reply.
"Thank you for your concern for Boo-Boo.

Boo-Boo is still with us at the San Jose Animal Care & Services Shelter and is doing well.

When Boo-Boo leaves our shelter, he will be going to one of the registered rescue groups that we work with.  They will in turn, work with him on any issues he might have, and then find an appropriate placement home for him. "
I will continue to keep in touch with Ms. Tinsdale about Boo Boo and we will all hope that he will be soon placed in a rescue where he will be cared for and ultimately in a furever home where he will be loved and taken care of.
Email This Post
Like this post? Subscribe to my RSS feed and get loads more!