Update on Boo Boo, Cornelius Van Der Vies Dog – Ready for Adoption!
Monday, June 4th, 2007 at 12:20 pm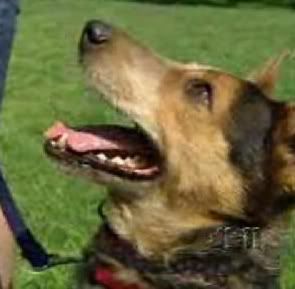 I know alot of you are familiar with Boo Boo and his story. I did an update on Boo Boo a while back and now it looks like Boo Boo is ready to find a furever home!!!
After Van Der Vies died, Boo Boo first went to a, animal shelter. Then, he was adopted by an animal rescue group who spent the past few weeks training him to get along with people and dogs.

Sunday was Boo Boo's final test.

He participated in the annual "Walk Your Tail Off For Homeless Pets" fundraiser in Los Gatos.

His trainers needed to see how Boo Boo interacted during the event.

Boo Boo's trainer said he passed with flying colors.

"He's been going up to people, making friends, taking treats, saying hello and he's very polite with the other dogs and I was just amazed because sometimes cattle dogs can be a little scrappy and he's like 'How are you" How are you? –and sniffing noses and sniffing bottoms just very normal dog behavior," Dawna Coldwell said.

Van Der Vies was a fixture in downtown San Jose. People said he was always there with a smile and a comment that put them in a good mood.Hundreds attended his funeral, which was held at the St. Joseph's Cathedral.

Many in the South Bay community have been following the story of Boo Boo, hoping that he would in the end find a home.

There are dozens of people who have volunteered to adopt the dog.

Now that he has passed the socialization test, all that is left is a trip to the dentist for some work on his teeth.

His handlers said Boo Boo should be in a new home within a week. (NBC11.com)
See the Video
This is so wonderful to hear!!! Hoooray for Boo Boo!! Now Cornelius will really be able to rest in peace knowing his beloved companion will be safe and loved and taken care of!!
Please feel free to comment!!! 🙂
Email This Post
Like this post? Subscribe to my RSS feed and get loads more!