Update on Brindi, Unfairly Incarcerated in Halifax!
Wednesday, October 1st, 2008 at 11:16 am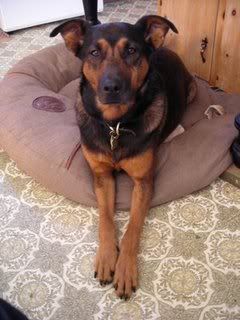 Update 1/16/09 – Brindi is Going Home!!
If you're not familiar with the story of Brindi and Francesca Rogier, please take a moment to read, "Travesty of Justice in Halifax! Let Brindi Go Home!" It's a truly heart-wrenching story with no end in sight.
More than two months have passed since Brindi was seized from her home and incarcerated, and in all that time Francesca has not even been allowed to visit her beloved dog! Brindi languishes on 'death row', little to no human contact and little chance for exercise or time outside of concrete and bars.
Support for Brindi and Francesca continue to grow and the petitions gain signatures but now word is that Francesca "received a reply from the city clerk: the online petitions will not be presented to the Council next week, because they lack street addresses for all the signees. This is some 1800 names we are talking about." Nor will she be allowed to address the council to plead her case. It had been hoped that the council might be able to move things along faster and get Brindi back home where she belongs but no…. it's BS politics at work… again. No one except for Francesca and her friends and supporters seem to give a damn about what's really important here, the welfare of Brindi.
Even the mayor who told a supporter the he would 'love to help' and to contact his office, has went back on his word.
And to top off all the emotional and mental strain, there is also the financial strain. For every day that Brindi is incarcerated, the SPCA will be charging Francesca $25 for Brindi's care and board on top of a $100 fee. So Francesa is up to almost $2000 right now to have Brindi 'boarded' in a place where she doesn't want her to be and she cannot even see her!! Add to that the legal fees, around $350 and hour as well as the court costs which are going to be only Lord knows how much!
All of this because of some By-Law that takes things to the extreme – Halifax By-Law A300 on Animal Control. Compare this by-law to the way it should be enforced HERE. Quite a bit of a difference and ramifications of those differences are what is so instrumental here.
I have been following this and keeping up with what has been going on through Francesca's blog – Free Brindi.
I got an email from Francesa too; "The battle is still on, and it's grueling. I still have not been allowed to visit Brindi and it's been nearly ten weeks. But I have strong hope and strong support from some caring folks, including new legal counsel, moving forward."
She also let me know that candlelight vigil is planned on this coming Saturday, which is the Feast Day
of St. Francis, a day when animals traditionally received special blessings.
Take some time to visit Francesca at Free Brindi. Drop her an encouraging word. There are ways that you can help too and right now she and Brindi need all the help and support they can get.
This horrible saga just breaks my heart! I cannot even imagine what she and Brindi are going through. I cannot imagine how I would feel or what I would do if someone tried to take on of my babies but I can assure you, it would not be pleasant and would not be without a fight! Right now Francesca is fighting. Let her know she's not fighting alone!!
We're all with you and Brindi, Francesca!! We wish you the best and send our love and support. The word is getting out and in body or spirit, we will stand beside you in your fight to save Brindi and have her back at your side.
Email This Post
Like this post? Subscribe to my RSS feed and get loads more!