Update on Daisy's BSL in Canada Case
Friday, November 30th, 2007 at 9:04 am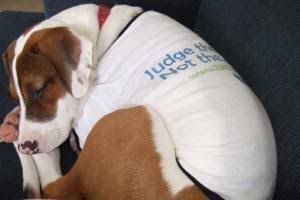 This update has been a long time in coming. To backtrack, June 4 th of this year in Ontario, Canada, an 8 month old dog, Daisy, was seized from her owner, Tammy.
Ontario is a very strict BSL state and Daisy was seized, from her house in front of her owner and shocked and crying children by officials under BSL laws.
There was a number of charges, one being that Daisy was determined to be a "pit bull" and was unaltered as was required by law, and another that she 'attacked' someone.
1) She was scheduled to be altered after her heat cycle was completed under the advise of her vet.
2) She greeted an elderly woman who fell down and was hurt. The woman says she was not attacked, that the puppy was just being a puppy and jumped up. But they say that it was a attack – Dog Owners Liability Act 5.1 (a), no matter if it was a accident or not.
There's much more to this story and you can find all the details HERE.
A couple more little details; Daisy was a SDIT, service dog in training, her papers listed her breed as a American Bull Dog/Lab mix but because she fit the characteristics of a 'pit bull' breed, she was classed thusly.
In the past 5 months there have been petitions, lawyer meetings, court appearance, negotiations and more, and during that entire time Daisy has remained in state custody in a shelter away from her family.
November 29 was the final court hearing with would decide Daisy's fate. Lawyers and advocates had been working diligently up until yesterday to negotiate details. In a September pretrial hearing the 'pit bull' charge was dropped.
Fast forward to the present and the the final court hearing yesterday.
Through months of negotiations a deal was been worked out with the Crown that Daisy would be returned to Tammy under the following circumstances:
Tammy would plead guilty to not properly supervising Daisy and would agree to pay a fine of $500.00. Tammy will be given 9 months to pay the fine.
Daisy must be spayed by January 13, 2008 and proof furnished to the court.
Tammy and Daisy must complete an obedience course and again, proof must be furnished to the court. The lawyers and group working to save Daisy located an excellent dog trainer in Penetang and Tammy has been instructed to set up the training course.
Tammy must return to court on April 14, 2008 to prove that she has complied with the settlement terms.
Daisy was home with Tammy last night for the first time since June 4th! Per Tammy, it was an incredible reunion. This is from Tammy to the 'Saving Daisy' group that has worked so hard to get Daisy home to Tammy:
YES Daisy is finally home after 179 days. I want to thank each and every one of you from the bottom of my heart. I thank you for all your love, prayers and support, I have been truly blessed. It was you all that saved Daisy at deaths door how can i ever repay that?

Our reunion was the best I could have ever asked for. She came running full tilt right at me almost knocked me down! LOL So i bent down to where my whole entire face ears neck and all where kissed and all wet:0)

Daisy's little wiggle butt never stopped moving. We are a family again. What a better Christmas gift this is for us, the best I could ever ask for and I owe it all to all of you. You are very dear to my heart and I will never forget all the angels on earth that surrounded me and gave me hope and life once again.

Love and Hugs Always
Tammy and Daisy
Although a long time in coming, this story was worth waiting for and the happy ending has brought tears to my eyes just imagining the reunion between Tammy and her dear Daisy!
In Conclusion
I wish more BSL cases had happy ending such as this, but all through the US and Canada pit bull breed dogs are killed, just for being what they are in many cases. I admit that often it is through an owners lack of regard for the laws and lack of responsibilty regarding the dog, but the bottom line is that thousands and thousands of innocent and defenseless dogs have perished under this guise of this breed discrimination called BSL.
It is only through the combined efforts of like minded people who understand that you 'punish the deed, not the breed' that things will change. Every day I hear of more cities enacting thinly veiled breed discrimination laws which they may call 'dangerous dog' laws but as soon as they specify a breed, and it's not only pit bulls although they are the most heavily targeted, it is nothing more than BSL and discrimination.
A Couple of Picture of Daisy – Home and Happy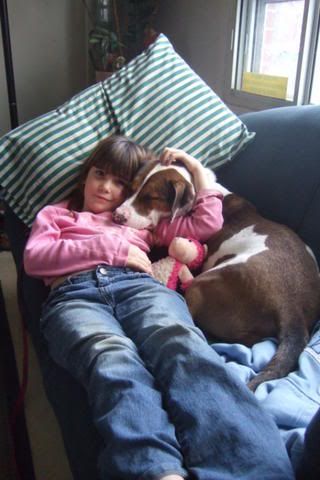 Email This Post
Like this post? Subscribe to my RSS feed and get loads more!