Update on Dog Abused in Pontotoc County
Monday, July 23rd, 2007 at 6:12 am
The owner of the poor pit bull that was so starved and neglected that it led the sheriff to call him the victim of the worse case of cruelty he has ever seen, has been arrested and charged with a felony count of animal cruelty.
Pontotoc County sheriff's deputies removed the starving dog with maggot-infested wounds from the home of Pauletta Samis this week. The cruelty charge was filed yesterday.

Sheriff Pete Peterson says a caller alerted deputies to the dog's condition. Deputies found the dog tied up. A cable lock had been wrapped around its neck twice. Its bones were visible and its head was swollen.

The dog was taken to an animal clinic where he was given intravenous fluids, medication and painkillers.

A veterinarian says the cable was wrapped so tightly around the dog's neck that it had started to grow into its flesh and was cutting off blood flow. (KTEN)
'Ray', the pit bull is recovering at the Ada Vet Clinic. Dr. Calvin White says he is making a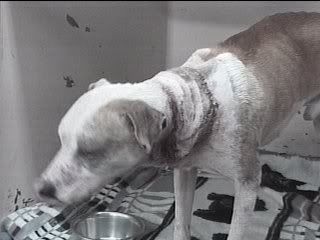 miraculous recovery and even while the chain, which was embedded in his neck in two spots, was being removed, he remained calm.
[D]espite all it's been through, the animal has a sweet nature and will be adoptable. "I think he will be. He's gonna have to go to the right home and that kind of thing but we have had no problems with him here at all so far. He's been very stoic through this whole ordeal," he said.

Pauletta Samis is currently being held in the Pontotoc County jail on a 10 thousand dollar bond. She faces one count of felony animal cruelty and… could be facing up to five years in prison and a 25 thousand dollar fine. (KTEN)
The owner had said it had been only two days since the poor dog had been fed but as anyone with half a brain knows it takes a lot longer for a dog to wound up in this extreme emaciated condition. The sherriff was actually amazed that the dog was even alive he was in such bad shape. We can only hope that he will continue to heal and find the loving home he so desperately deserves and that the woman who did this to him pays for it with a serious penalty!
People have got to learn that you cannot perpetrate such cruelty and get away with it!! Unless the penalties for crimes like this are as serious as the crime itself, people will continue to do this thinking they're going to get away with it with no more than a 'slap on the wrist.' This mentality needs to end!
Email This Post
Like this post? Subscribe to my RSS feed and get loads more!