Update on Dog Mutilated, Shot and Killed in Pittsburgh
Friday, September 21st, 2007 at 7:36 am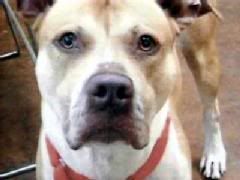 The man who brutally mutilated and killed the 4yr old shepherd pit bull mix, Buju, that he promised to home and care for was arrested after hours of phone negotiations finally led to Jamarow Trowery, 30, surrendering himself to police on Thursday.
Trowery, who lives in Penn Hill, is on federal probation for a 2005 felony firearms conviction. Thursday, the Swat team surrounded Trowery's Susquehanna Street home after learning he was out on federal parole and may have had an arsenal of weapons. Police convinced the suspect to turn himself in, which he did late Thursday afternoon. After surrendering at the Zone 5 police station in East Liberty, Towery was charged with cruelty to animals and a violation of the Uniform Firearms Act.
Commander Rashall Brackney has praised the community's cooperation. It was due to the tips of outraged citizens, after Towery's bragging, that led to his arrest.
The dog, Buju, was found on Tuesday afternoon, his body stuffed in a plastic bag and left at the corner of Susquehanna and Pitt streets in Homewood. He had been shot, his right from paw cut off and examination of the body showed that crude attempts had been made to decapitate him. Brackney is waiting for reports to find out if the dog was shot before or after he was brutally mutilated.
"It is very gruesome," said Brackney. "It shocks the conscience of a person when you think about it."
One of the saddest aspects of this case is that the original owner of Buju, gave the dog to him in an effort to make sure the dogs life was spared.
She and her children had to move to an apartment that didn't accept pets. On July 19, she took Buju to an animal shelter operated by the Animal Rescue League.
"She really did not want to let him go," said Daniel Musher, the shelter's director of development. "She came to visit Buju frequently.
"Buju was just the nicest dog. He was laid back and friendly. He often hung out in our offices. He was well behaved and knew basic commands."
Worried that Buju might not be adopted and face euthanization, she continued to look for a home for him. In early August she thought she has found it and removed Buju from the shelter and placed him in Towery's care.
"We were so pleased. We all thought we were doing the right thing," Mr. Musher said.
Ann, who is an Animal Rescue League volunteer who walked Buju several times while he was at the shelter commented to For the Love of the Dog, "He was a gentle, darling boy. I can't imagine why anyone would do this to any animal."

"Just to clarify on one point, Buju was an adoptable dog. The dogs who are eligible for adoption at the ARL will NOT be euthanized. The staff and volunteers will work hard to find a home for every single adoptable dog there. Let's hope that this criminal gets what he deserves."
"It's an ironic twist that the former owner's attempts to save him from euthanasia in the shelter led to the death of the dog," Brackney said.
Source – Pittsburgh Tribune, Post Gazette
Email This Post
Like this post? Subscribe to my RSS feed and get loads more!