Update on Dog Shoots Man
Thursday, August 2nd, 2007 at 7:29 pm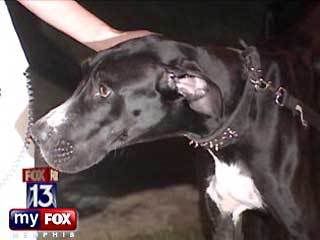 Seems the story out of Memphis, TN of the Great Dane, King George, shooting his owner in the back has generated a great deal of interest and concern… over the welfare of King George!
In the original story there was a comment from the fiancee of the man who was shot "that she fears what her fiance will do to the pet once he gets out of the hospital."
I made a comment myself saying, "I can only hope that nothing happens to the dog and I have a feeling the people will be keeping an eye out especially after the fiancee's comment."
Seems I wasn't offbase with that at all! Between the fiancee's comment and the extremely thin appearance of the dog in video clips, the TV station, My Fox Memphis, and the Memphis Humane Society have been deluged with phone calls and email from people from California to Florida concerned about King George.
Ginger Morgan of the Memphis Humane Society has the same concerns and no doubt will be following up to make sure King George is healthy and unharmed.
Check out the VIDEO
Email This Post
Like this post? Subscribe to my RSS feed and get loads more!