Update on Dr. Joshua Winston, AZ Vet Accused of Punching Dog – Indicted!
Tuesday, July 10th, 2007 at 5:25 pm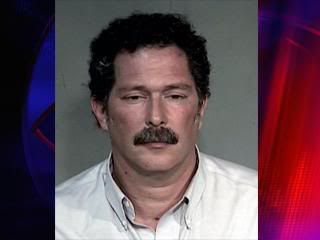 This story came to our attention on in the beginning of June when Dr. Winston, Sun City veterinarian, was accused of punching a Chihuahua in the face 5 times and dislodging its eye on Jun 4.
Now Dr. Winston has been indicted on felony animal cruelty and misdemeanor theft.
Bella, the Chihuahua, had to undergo corrective surgery to take care of her eye.
The theft charge stemmed from an incident earlier this year and involved a Neapolitan mastiff brought in for vaccinations.

Witnesses said the dog was uncooperative, according to deputies. They said Winston became angered, and he dispensed the medication in the sink rather than into the dog and charged the client $80 for the medication, deputies said. (News 5)
After Winston's arrest he said he'd "never ever physically abused an animal" in his life.
Winston, the only vet Sun City West Animal Hospital, has treated over 300,00 animals in an unblemished 25 yr career. Arrested on June 11, he was back in his office on the 13th and it was basically business as usual. The support of friends and clients throughout this have been nothing short of amazing!
Warner said that the support from loyal clients was "overwhelming and wonderful," although the constant phone calls have caused "a bit of chaos" at the animal hospital.

About half a dozen pet owners who use Winston as their vet came to his defense Tuesday, describing him as a caring, compassionate physician who on occasion would provide free services. (AZ Central)
After Dr. Winston's release he did take some time to speak out….
Winston said, "It's horrible. It's horrible. It's ripping me apart as a human being!"

Since his arrest, numerous clients have stopped by the animal clinic in Sun City West expressing their support of Winston. Many say they can't believe he would do such a thing since Winston has taken good care of their animals. While he's not able to comment on the case specifically, Dr. Winston said he treats all his animals properly.

Winston said, "I've been a vet for 25 years. I've never had a complaint against my license. I've never had a colleague or coworker raise an eyebrow about my actions. I've never had an incident in which an animal has been harmed in my care. So to me this is devastating. It's absolutely devastating!" (AZ Central)
Needless to say they has been a great deal of public outcry. When I initially read the story I was appalled, but like any story there is two sides. About a week or so after the initial story, 'the other side of the story' came out, please take the time to read this as well. This is not something that got much, if any, play in the media. I believe you need to see both sides and read the comments as well. They shed quite a different light on the situation.
In view of all of this, I am going to withhold my opinion except to say that I hope all the facts come out!
Email This Post
Like this post? Subscribe to my RSS feed and get loads more!