Update on eBay Auction of Dog Chewed Michael Vick Cards
Monday, August 27th, 2007 at 11:59 am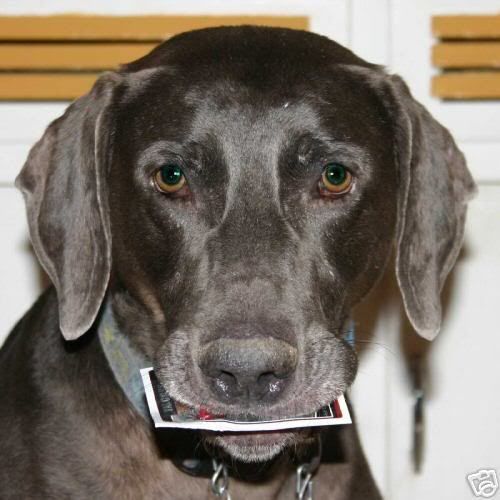 Last week I told you about Rochelle Steffen who was auctioning off a lot of 22 Michael Vick sports cards chewed on by her dog, Monte.
On the morning of the 24th I checked the auction and the bidding was up to $2350 with about 20,000 of the listing. Shortly after that eBay pulled the auction!
Steffen said eBay informed her she had violated the company's rules for charity auctions.
Steffen specified in her listing that 100 percent of the proceeds would go to charity, and eBay requires a cut of the profits as a service charge. EBay also asks the person listing the bid to pick a charity from one of those on a provided list, Steffen said.
Needless to say, this upset an awful lot of people, myself included!I think this is a wonderful way to to get something positive out of a horrible situation. Steffen has relisted the auction, removing any specific 'charity' wording but luckily the word is out and people know. The bidding right now is at $6400 with over 52,000 views and the auction is on until the 29th.
And remember, 100% of the proceeds go the the winning bidder's animal shelter of choice! It's all for a great cause!!
UPDATE – 8/28/07 – 10:30 am – As of now the bid is up to $7,100 with about 63K views!! There is going to be one very happy animal shelter out there!!! Go Rochelle!!!
UPDATE – 8/29/07 – The auction ended today with a top bid of $7,400 with over 72,00 views!!!!!!! The winning bidder was 'activist4animals' Congratulations Rochelle!!! Congratulations Activist4animals!! And a special congratulations to the lucky shelter and animals that will benefit from this!
Email This Post
Like this post? Subscribe to my RSS feed and get loads more!