Update on Georgia Wilson, Vet Charged with Animal Abuse
Monday, August 27th, 2007 at 2:10 pm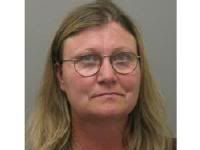 On August 7, Webster Groves Animal Hospital vet, Georgia Wilson, 43 of the 6100 block of Illinois Route 162, Maryville, IL, was arrested in connection with an August 4 investigation at her home which turned up three dog that had died of starvation and dehydration, horses left with larvae infested water and four more dogs that were neglected, malnourished and dehydrated. She was charged with seven felony counts of animal abuse and three counts of violating owner's responsibility. The seven counts of abuse involve dogs; the three counts of violating responsibility involve horses.
Wilson's 17-year-old daughter, Kelsey Reger of Shiloh, was charged Thursday with three misdemeanor counts of animal cruelty for failing to provide adequate food, water and shelter for the dogs left in her care.
Georgia Wilson was placed on administrative leave from her position at Webster Groves Animal Hospital, said Angel Venegoni, the hospital's administrator.
She said the hospital had been bombarded with calls from clients who were concerned that Wilson, who specialized in the care of exotic animals, had abused their pets.
Wilson had a preliminary hearing on August 24 and Reger will be on court on Sept. 5.
And now, the four dogs that survived and are currently in the care of Metro East Humane Society are in need of homes.
The easiest of the four to place will probably be Hazel, a red-and-white border collie mix, between 1 /1/2 and 2 years old; and Half-Pint, a Cairn terrier, between 8 and 9 years old. MEHS Director Charity Laleman is worried that the Chesapeake Bay terriers – an 8-year-old female named Flame, and 11-year-old Chance – won't be so easy to find homes for.

"Most people want a kitten or a puppy," she said Wednesday at the shelter, which is located about five miles east of Edwardsville on Illinois Route 143. "When dogs get up to age 7 it's been our experience that it's been difficult to adopt them out."

One dog year is roughly equivalent to seven human years, although larger dogs usually age faster, she said.

But often older animals are calmer and more predictable and thus more desirable to some people, she said. "You know their history being around dogs or cats and other animals," she said. "When you get a puppy or kitten you really don't know what you're getting."

Laleman described all four dogs as "very sweet animals" who are "recovering nicely" after their mistreatment. Chance is "a little skinny" she said, but all four are in good condition.

If dogs aren't adopted from MEHS, Laleman said she will take them to Senior Pet Rescue, a St. Louis agency that finds foster families for older cats and dogs. "They rely more on foster families than we do. They can work one-on one," Laleman said.

The first step toward adopting a pet from MEHS is to come in and fill out an adoption application, after which a veterinarian will check them to make sure the animal has got all its shots, she said. "And we check out landlords to make sure they actually are allowed to have pets," she said. (Edwardsville Intelligencer)
If you're interested in adopting one of these dogs, who after what they've been through, desperately need wonderful, loving forever homes, please contact – Metro East Humane Society.
Metro East Humane Society
8495 State Route 143
Edwardsville, IL 62025
Phone: (618) 656-4405
Fax:(618) 659-1613
E-mail:info@mehs.org
Email This Post
Like this post? Subscribe to my RSS feed and get loads more!