Update on 'Horrific Case of Neglect and Cruelty'
Thursday, September 13th, 2007 at 8:12 am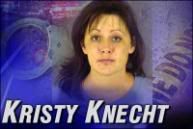 Arapahoe County District Attorney Carol Chambers announced on Wednesday morning that 29-year-old Kristy Knecht was being charged with two felony counts of aggravated cruelty to animals after abandoning two dogs, German Shepherd and Belgian Malinois, in a house for months. The Class 6 felonies carry a penalty ranging from one year to 18 months for each count plus up to $100,000 in fines on each count.
On August 21, an Aurora Animal Care investigator found a
barely breathing, severely dehydrated and malnourished, Neeko, the Belgian Malinois, in the abandoned home. The white German Shepherd wasn't so lucky. Up to 2 feet of dog feces was piled up in a utility room, and chewed-up dog bones were strewn throughout the house.
"There was no water in any of the toilets, there was no water in any of the fish tanks, anything that was remotely resembling food or might have been food around the house had been scavenged," said McLucas. "He fought hard; he did everything he could to find sustenance inside the house."
Neeko weighed barely 30 pounds, an alarming difference from the 80 pounds he weighed when Knecht got him on July 1! Neeko has since been in the custody of the Aurora Animal Care Division. He's gained a few pounds and is being fed every two hours.
When Knecht was asked why, all she could say was, "I don't know. I wish I could tell you why. But I don't know."
She said the she left the dogs for three or four month but returned occasionally to check on them and leave food, "I came and put food in the door. I wouldn't even come in that house."
Kristy Knecht says she's sorry for leaving her animals unattended. She says she hopes that the surviving dog, Neeko, will find a good home.
"I know he's a sweet dog," she said. "I hope somebody adopts him that can care for him. That's what I hope."
Many people have expressed interest in adopting Neeko, including the previous owner, a soldier who had gotten deployment orders but was then not shipped off. That was the reason he had to re-home Neeko and he thought he had found a good home for him.
Unfortunately it will be months yet before Neeko can even be considered for adoption. Although he's doing well, considering, he will need to gain alot of weight and his care has already run onto thousands of dollars and will continue to mount. Donations have helped to defray some of the costs but much more will be needed.
If would like to help with Neeko's medical expenses, checks can be mailed to Aurora Animal Shelter, 15750 E. 32nd Ave. Aurora, CO 80011. Attention: Veterinary Care Donations.
Email This Post
Like this post? Subscribe to my RSS feed and get loads more!