Update on 'Horrific Dog Torture in Detroit'
Wednesday, September 12th, 2007 at 1:19 pm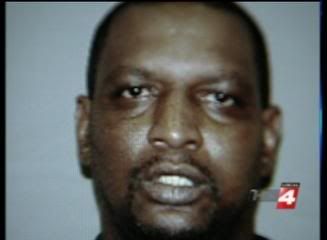 John Delmar Fladger, 52, the man who so cruelly and viciously poured gasoline on his dog and set if on fire, pleaded guilty to animal torture, a felony, and was sentenced to 23 months to 4 years in prison by Wayne County Circuit Court Judge David Groner.
"This case shocks the conscience. This case is something I've never seen before,'' Groner said before issuing the sentence.
On August 3rd, Lil'Mama, as the 2 yr old, pit bull shepherd mix was named, followed Fladger to a convenience store at corner of Warren and Bangor.
Evon Yusef, witnessed what happened inside that store, "Yes, inside the store. He was pouring gas. There was gas all over the place. Customers were scared. They were backing away from him."
Fladger told the store owner he was trying to kill the dog which he proceeded to attempt.
Another witness said that he seemed to be showing off for some children, "He was walking down the street, spilling gas at the dog. He was trying to light the dog at the same time he was walking."
At his sentencing this morning, Fladger actually had the audacity to apologize before the court, saying: "I'm very remorseful about what happened and my soul love for dogs is great.''
I most sincerely doubt either part of that statement, either his remorse or his 'love for dogs!' People who love dogs don't pout gasoline over them as they follow them, their beloved master, then proceed to show off in front of children by lighting the poor dog on fire!!
Michele Baxter, a cruelty investigator for the Michigan Humane Society said, "I would put this at one of the more severe cases that I've seen and that we've seen," as she told the judge the dog was so badly injured that euthanization was the only option.
Fladger, who served 22 years in prison on an armed robbery conviction was also ordered by the judge to receive psychiatric counseling and the judge finished by saying, "To think that you would destroy your dog like that makes me think that you have no regard for people."
Sounds like society is safer with him behind bars and I can only hope his term is the fours years rather then the 23 months!
Email This Post
Like this post? Subscribe to my RSS feed and get loads more!