Update on 'Louis Vuitton' – Burned Dog in Montgomery, Alabama
Thursday, September 27th, 2007 at 8:28 am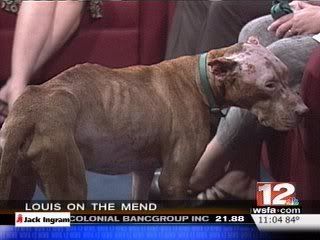 Now that the cretin, Juan Daniels, who 'alledgedly' chained, beat and burned 'Louis Vuitton' is in custody, we can all breathe a sigh of relief. But what about Louis, the horrifically beaten and burned pit bull?
Well, I've got some great news on that front! 😀
He is the talk of the town, Louis, the pitt bull, is making a surprising recovery after a shocking ordeal.

Louis and his caretakers appeared Wednesday morning on 'Alabama Live.' It is true, the strides he is making are amazing. You will recall, Louis was beaten and set on fire, allegedly by his owner.

He was the guest of honor on Alabama Live. Louis Vuitton, named for the famous fashion designer, is finally getting his looks back.

Veterinarian Hollady Simmons says his recovery has been extraordinary. She says, "You can look at him and tell." Simmons credits laser treatments for the turn-around. She says, "Now we have got healthy new tissue, scar tissue growing in, little pieces of hair. And his attitude has just been great. So his progress has just been amazing." (WSFA)
You can see two videos made by Louis' caretakers HERE but be warned, the images are graphic.
Email This Post
Like this post? Subscribe to my RSS feed and get loads more!