Update on Maximus – Brentwood Man Arrested
Tuesday, July 24th, 2007 at 10:17 am
A Brentwood man, Derick Phanord, 22, of 156 Cocoanut St., Brentwood, was arrested last night and it is believe he may have been the person responsible for the cruel and senseless killing of the pit bull dubbed 'Maximus' by the emergency technicians attempting to save his life.
Sadly Maximus died from his grievous injuries last Tuesday and shortly thereafter a $20K reward was offered for information leading to the arrest and conviction of the sick and twisted individual who did such a thing to a poor innocent dog.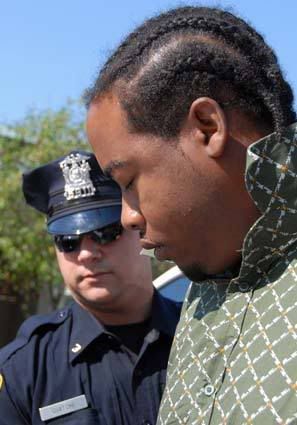 A Brentwood man suspected of killing Maximus, a pit bull that died last week after someone tied it to a tree and set it on fire — possibly doused with gasoline — was arrested Monday night and charged with cruelty to animals, the Suffolk police said.

Derick Phanord, 22, of 156 Cocoanut St., Brentwood, was arrested at 11:30 p.m. for driving with a suspended license, and an investigation by Third Squad detectives led to him being charged with aggravated animal cruelty, the police said. Phanord is scheduled to be arraigned Tuesday morning at First District Court in Central Islip after spending the night in the Third Precinct lockup.

He is also charged with criminal possession of a weapon, a bludgeon found when his car was stopped.

The dog, named Maximus by emergency veterinarians, was found July 12 with second- and third-degree burns over 60 percent of his body. Phanord, according to police, owned Maximus.

The Suffolk Society for the Prevention of Cruelty to Animals last week said a reward had increased to $20,000 for information leading to whoever killed Maximus.

The dog smelled of gasoline when found with severe burns on the face and ears, wounds to its upper palate and teeth loss, the SPCA said.

Maximus died last Tuesday despite undergoing three surgeries and other veterinary care.

The 2-year-old, approximately 55-pound male dog was discovered on a right-of-way near Sycamore and Apple streets. SPCA Chief Roy Gross said that there had been an overwhelming response of calls from people who are "disgusted" that a human would treat an animal this way. The dog was in good condition and was well fed before it was set afire, he said. The dog was good-natured to the end, said Reed Zaroff of the Veterinary Medical Center of Long Island, one of the veterinarians who tried to save him. "He was a good dog up until the very end … giving licks and kisses." (Newsday)
Phanord was awaiting arraignment on Tuesday at First District Court in Central Islip.
Donations are still being collected to defray the costs of Maximus' treatment. For information, contact the Veterinary Medical Center at 631-587-0800 or Save-A-Pet at 631-473-6333.
Email This Post
Like this post? Subscribe to my RSS feed and get loads more!