Update on Michael Vick Case – 8/17/07
Friday, August 17th, 2007 at 1:16 pm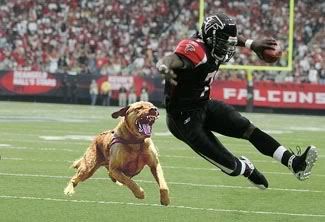 As I told you on the 13th, Michael Vick's remaining 2 co-defendants, Purnell A. Peace, 35, of Virginia Beach and Quanis L. Phillips, 28, of Atlanta, did indeed enter plea agreements today in U.S. District Court. Sentencing will take place on November 30, 2007.
"Did you conspire with these folks to sponsor a dogfighting venture?" U.S. District Judge Henry Hudson asked Peace.

He replied, "Yes, sir."

The offenses are punishable by up to five years in prison and a $250,000 fine, but the exact sentence will be based largely on federal sentencing guidelines. Hudson told Peace and Phillips that certain elements of their offenses will increase their sentencing ranges.

"There are aggravating circumstances in this case, there's no doubt about it," he told Phillips. (FOX Sports)
Peace was freed but Phillips having violated the terms of his release by failing a drug test was jailed.
On of Michael Vick's lawyers, Lawrence Woodward, sat in the courtroom taking notes during the hearing then left, declining to make any comments.
Tony Taylor's 'Statement of Facts' placed Michael Vick at the scene of dogfights, tied him into gambling and set him as the 'money man' for the operation.
Pernell Peace's 'Statement of Facts' confirmed Taylor's statements and also said that Michael Vick was an active 'participant' in the execution of either dogs earlier this year.
According to the statement of facts signed Friday, "Peace, (Quanis) Phillips and Vick executed approximately 8 dogs that did not perform well in 'testing' sessions at 1915 Moonlight Road by various methods, including hanging and drowning. All three participated in executing the dogs. Peace agrees and stipulates that these dogs all died as a result of the collective efforts of Peace, Phillips and Vick."
In a separate document signed by Peace, prosecutors allege that Vick paid Peace $3,000 a month to take care of their pit bulls on Vick's property in rural Surry County. Peace became the primary caretaker of the dogs after Taylor left the operation following a disagreement with Phillips, the statement says. Also according to the statement, Vick posed for a photo with three co-defendants and a female pit bull they were about to sponsor in a dogfight in North Carolina four years ago. There's no news as to whether the prosecution has a copy of this photograph or not.
That document says Peace, Vick and two other co-defendants , who referred to themselves as "Bad News Kennels,"  traveled from Virginia to North Carolina with a female pit bull named "Jane" to participate in a dogfight against another pit bull owned by an organization called "Lockjaw Kennels."

"Prior to this fight," the statement says," all four 'Bad News Kennels' members took a picture with 'Jane.' " (AJC)
And as of now, still no word from Vick. According to numerous unnamed sources, his lawyers have been talking to federal prosecutors and have advised Vick to accept a plea before he faces additional and possibly more serious charges, including racketeering. A federal grand jury is scheduled to meet next week to start hearing the new charges against Vick.
NFL spokesman Greg Aiello said the league had no comment on the latest pleas.
Any outcome that ties Vick to betting on the dogfights could trigger a lifetime ban from the NFL under the league's personal conduct policy.
About 30 animal-rights activists gathered outside the courtroom. Afterward, as police officers cleared the scene, protesters continued waving large pictures of a mutilated dog.
And to top things off it looks like Virginia is also going to prosecute Michael Vick as well.
Virginia Commonwealth Attorney Gerald Poindexter told the Atlanta Journal-Constitution Friday afternoon that "yes, indeed, we will prosecute" Vick and others on possible animal cruelty and dogfighting charges. Poindexter said he would probably submit his case to a grand jury that is scheduled to convene Sept. 25.

He has not determined which charges he would file but said he would aggressively prosecute based on previously acquired evidence and some of the evidence presented in the federal case. Dogfighting and animal cruelty are felonies in Virginia with animal cruelty charges holding penalties of up to five years in jail for each animal killed.

"The execution of these animals  and the "manner in which they were executed" is startlingly offensive and demanding of prosecution," Poindexter said. (Atlanta Journal-Constitution)
Read Pernell Peace's Summary of Facts – HERE
Read Quanis Phillips's Summary of Facts – HERE
For more background and information as well as all up to date related posts, the full indictment and Tony Taylor's "Statement of Facts," please see – Michael Vick and Dogfighting
Email This Post
Like this post? Subscribe to my RSS feed and get loads more!