Update on Michael Vick Dogfighting Case – 7/26 Court Hearing
Wednesday, July 18th, 2007 at 3:52 pm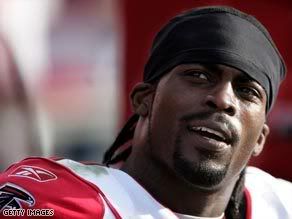 Just a quick update on the Michael Vick dogfighting case. Yesterday, as most everyone probably knows, Michael Vick was indicted on charges stemming from the investigation beginning in April. He's scheduled to appear atbond hearing and arraignment on July 26.
Atlanta Falcons quarterback Michael Vick will go before a federal court in Richmond, Virginia, next week on charges that he participated in a dogfighting ring spanning at least nine states, the court said Wednesday.

Vick will attend a bond hearing before U.S. District Judge Dennis W. Dohnal on July 26 before heading to an arraignment in front of U.S. District Judge Henry E. Hudson, according to the U.S. District Court for the Eastern District of Virginia.

The Falcons are slated to kick off training camp on the same day.

Vick, 27, and three others were indicted Tuesday on charges of conspiracy in a dogfighting operation that included transporting pit bulls across state lines for illegal prize fights.

If convicted on the federal charges, Vick could find himself behind bars for up to six years, in addition to being fined $350,000, according to the federal court.

According to the 19-page indictment, Vick and his co-defendants are accused of training pit bulls and organizing prize fights in which dogs that weren't up to snuff were executed, sometimes by hanging or electrocution.

The Falcons star went by the code name "Ookie" and participated in or OK'd the killing of numerous dogs, the indictment states. Vick and his co-defendants killed eight dogs as recently as April, the indictment states.

Some dogs were killed after being "rolled," a process by which dogs are tested to determine if they are ferocious fighters. However, in one case, a female pit bull was injured in a fight that cost Vick and his co-defendants $13,000, according to the indictment.

After Vick was consulted about the canine's condition, one of his co-defendants "executed the losing dog by wetting the dog down with water and electrocuting the animal," the indictment states.

Various other methods were used to kill dogs that fought or tested poorly, including hanging, drowning, shooting, and in at least one case, slamming the dog to the ground, the indictment says. (CNN)
The 19 page indictment lists many practices, details of some of the fights, and information on money changing hands. If you would like to read the full 19 page indictment, you can download the PDF HERE
Take Michael Vick out of the game! Sign the PETITION
To read the entire 19 page indictment, download it HERE
For more background and information as well as a full up to date list off all the most current stories, please see – Michael Vick and Dogfighting
Email This Post
Like this post? Subscribe to my RSS feed and get loads more!