Update on the Two Kansas City Dogs Found with Their Legs Hacks Off
Sunday, January 6th, 2008 at 8:33 am
In August, approximately a week apart, two dogs were found in Kansas City, MO, each with one of their back legs hacked off. A six month old tan mix breed puppy, dubbed Misty, was found on the 14th at 11th and Newton and just one week later and one year old male Rottweiler, dubbed Rocky, was found at Kansas City Museum, 3218 Gladstone Blvd with pretty much the exact same injury. Both dogs had been wandering, injured and in pain for perhaps days before they were found and rescued.
Thanks to Spay and Neuter Kansas City both dogs were able to receive the surgery and the recovery they needed. Between Spay and Neuter Kansas City and the Humane Society and reward fund was set up and is up to $7,500 but still there are no suspects in the cruel animal abuse cases.
In October, both these sweet dogs found loving forever homes. Each dog was placed in a home with another three-legged dog in the thought that it would help them to adapt.
Now Misty, the spelling changed to 'Mysti' because her story still remains a mystery, shares a loving home with Mari Dahm and two other dogs, one a three-legger and one a four-legger.
At first Dahm says she had to lift Mysti onto the bed but now she's learned to do it herself.
"You've gotten better using that pogo stick, haven't you?" Dahm said, caressing Mysti's ears.
And Rocky, the one year old Rottweiler, shares a home with Holly Sacks of Overland Park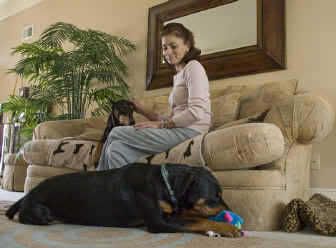 as well as three-legger and four-legger dogs.
"He's really blossomed," Sacks said of Rocky. "It's amazing he wasn't more affected."
Both dogs have fenced in back yards, dogs parks nearby and of course the companionship of others dogs and their people. They are both adapting amazing well and neither of them shows fear or skittishness around strangers, amazing after what they have been through.
For Mysti and Rocky, this is a story with a happy ending. The only downside to the whole thing is that the person who did these cruelties had never been identified. Even with a $7,500 reward out there, no one had come forward and there have been no other dog mutilations found.
"You would think somebody would step forward for $7,500," said Michelle Dormady, president of Spay and Neuter.
I'd love to see that but for now I will be happy for both Misti and Rocky, that they have recovered and move on to wonderful lives with a bright future.
Source – Kansas City.com
Email This Post
Like this post? Subscribe to my RSS feed and get loads more!