Update on Tiger, Death Sentence Dog to Hero Dog – VIDEO
Thursday, February 5th, 2009 at 6:42 am
Since the story came out about the two families that lost everything in an early morning fire earlier this week, donations have poured in, everything from clothes to food to furniture.  People have opened their hearts to Patricia Calvin and her four children and Velma Boyd and of course, the four-legged, furry hero of the story, Tiger.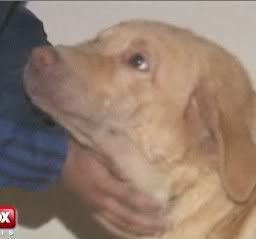 The Humane Society of Memphis has agreed to accept donations for Tiger's medical care and to care for him for the duration as well.
"Here he'll get walked by the dogwalkers, we'll get him checked out by a veterinarian, we will take care of him, board and food and medical and any donations that come will be allotted to him for his care," Humane Society Director of Operations Butch Lulloff said.
Yet despite the donations and offers of help, Velma Boyd, Tiger's owner, who lost her job and was preparing to have Tiger euthanized because of an easily treatable skin disorder, say she still is not sure she'll be able to financially afford to keep Tiger, the hero dog who saved all their lives.
Luckily for Tiger, at least now she's talking about surrendering him for adoption rather than euthanization.  Both families do believe they owe Tiger their lives for waking them and alerting them to the fire.
I guess I should be pleased that people are opening their hearts to donate and help these two families who lost everything, and don't get me wrong, I am but I feel angry and disappointed too. People are not only offering help for the families but the hero who saved their lives.  A dog, that by chance of fate, was even there and alive to be able to help because the Humane Society didn't pick him up that day after Boyd's call to get him and euthanized him.  He will be taken care of and his medical problems treated at no cost to his owner.  He will be boarded at the Humane Society.  And still Boyd is talking about getting rid of him.
At least he no longer has a death sentence hanging over his head and because of the publicity there is no doubt that he would be quickly adopted into a wonderful family that actually wanted him.  In the longrun, that would be better anyway if you ask me.  Such a sweet, loving animal deserves to truly be wanted and loved.
I can tell you one thing though, if it were me, nothing would make me give up my beloved dog, my furry family member, whether they were a hero or not.  I would live in my vehicle… beg, plead, borrow…. whatever it took. And trust me, I've been there in my life, so I really do mean that!
Am I being too harsh? Too judgmental?
Email This Post
Like this post? Subscribe to my RSS feed and get loads more!