Update on Tortured Dog in Philly
Friday, September 7th, 2007 at 7:30 am
The little female, brindle boxer-mix that was so brutally tortured by a pack of boys and young men in Philadelphia several weeks ago is still recovering at the Humane Society's facilities in Hunting Park. About eight or so boys and young men doused the the dog with accelerant, lit her on fire then proceeded to kick and beat the poor dog as she cowered in pain and fear. Horrified onlookers called the police but the abusers got away.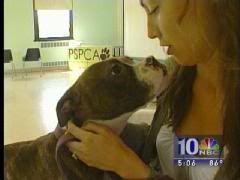 Etana, as the the dog was named, means 'strong spirit.' Jen Utley, who named the pup, is the wife of Phillies second baseman Chase Utley. She was volunteering when the dog was brought into the SPCA and the Utley's have taken over sponsoring her and are paying all her medical expenses.
"Anybody that can beat up a 35-pound dog is a coward in my book," said Chase Utley.
Investigators say they are close to making some arrests in the case. And hopefully in about a month or so when Etana is recovered she'll find a wonderful new home with a loving family!
Email This Post
Like this post? Subscribe to my RSS feed and get loads more!