Update on 'Trash Bagged' Poodles – Reward
Wednesday, December 19th, 2007 at 7:27 am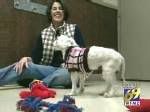 A reward is being offered for information in the case of the two toy poodles that were bagged like trash and tossed on the side of Lock Street in Lopatcong Township in New Jersey on December 8. Only one survived.
The Humane Society of the US has put up a $2500 reward and Lehigh Valley Animal Rights Coalition has offered a $500 reward.
The dogs were found by grade school teacher, Tatum Porter when she was out walking her own dog. Only one of the dogs survived. Named Locky by Porter, the dog was malnourished and in poor health from neglect.
Taken to the Warren Animal Hospital for treatment, Locky, who just underwent eye surgery due to ulcers in both her corneas from mistreatment, continues to improve. Adopted by Porter, Locky is visited daily and should be able to go home in a week or two.
"We're hoping a neighbor would notice one of their neighbors who had dogs doesn't anymore or something," Lopatcong Township police Sgt. Scott Bisci said who has had a few leads but nothing that panned out. He hopes the reward to encourage someone for come forward with information.
The Humane Society offers regular rewards in animal cruelty cases throughout the country, but each incident is "horrible" to society officials, Barbara Dyer, the Humane Society's Mid-Atlantic program coordinator said. Rewards bring renewed attention to the incidents and can be incentive for people to turn in animal abusers, she said.
"There's no reason for this," she added. "If the owner no longer wanted them, all they had to do was take them to a shelter."
Lopatcong Township police ask anyone with information on the toy poodles discarded in Lopatcong Township to call Sgt. Scott Bisci at 908-859-1212. The Lehigh Valley Animal Rights Coalition can be reached at 610-821-9552.
Source – NJ.com
Email This Post
Like this post? Subscribe to my RSS feed and get loads more!