Update on Victory, Pitbull Who Had Her Ears Cut Completely Off
Monday, February 16th, 2009 at 6:28 am
Update 3/24/09 – Now This is a Victory
You remember Victory, the pretty pitbull that was found wandering, bleeding and abused, her ears cut completely off?  Well my good friend with MPR (Missouri Pitbull Rescue) sent me an update on how this sweet girl is doing since she touched so many hearts.
Victory is settled in with a foster family now.  She's got her own bed, new bowls, lots of toys and a crate that she is very comfortable with.  She is well loved and seems to give that love back in full measure.  She is very affectionate and is putting some weight on her previously emaciated frame.  She is also heartworm positive and will be starting treatment for that.
From being on a chain, condemned to live outside in sub-zero temps and starved, not to mention having her ears cruelly cut completely off, she is making an amazing recovery and is about as sweet as can be.
Here are a couple of recent update from her foster mom;
February 11:

Victory has been wonderful so far. She sits at our feet when we are on the couch, or in her big, comfy bed. Once in awhile, she tries to inch her way up on the couch, but that's only because she wants to be as close to us as possible. She has been so affectionate with kisses and hugs!!

When I give her food and water throughout the day, she is so very grateful. It tells me that those things weren't always available to her before and she is happy just to see her water dish filled up. We give her treats when its time to go to her kennel. She hasn't made one peep when in her kennel at night or when we leave the house. I continue to be amazed at her loving personality, after all she has been through.

Her favorite times of the day are when we play with her tug rope "tug-of-war", and when she gets peanut butter in her kong while we eat dinner. And of course, when we walk in the door after work, she jumps for joy and runs in circles in excitement. She is very good on her leash and loves to be outside on walks.

This is one seriously loving, affectionate, wonderful dog.. We are lucky to have her in our home!

February 15:

Here are some pictures of Victory. I'm sorry it took so long! She loves to give hugs, so I had to include the one of her and John hugging. She does this all the time with both of us. You'll see pictures of her in her bed with her favorite toy, the rope. She is pooped out in one of the photos where she's laying in her bed. Her tummy looks to be a little rounder now that she has plenty of food. She goes in tomorrow to begin her heartworm treatment, so we're excited to get that taken care of. She also loves to go for rides in the car. I'll have to get a picture of that sometime soon!!
And some great new pictures that she sent along;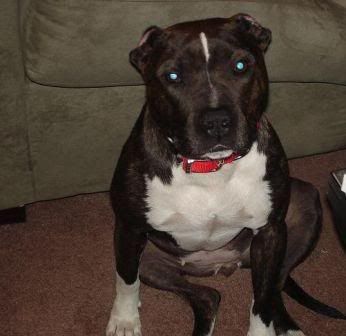 This is definitely an update to bring a smile to your face and what wonderful news to start the week with.  Keep this sweet girl in your thoughts as she undergoes her heartworm treatment.
Gig, thanks so much for the update on Victory! You and MPR are  great and do a fantastic job for these babies!
Email This Post
Like this post? Subscribe to my RSS feed and get loads more!