Update on Yellow, Dog Tortured by Juvenile
Saturday, November 1st, 2008 at 7:47 am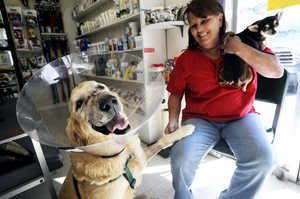 Update – 12/18/08 – "I Am Guilty," says Juvenile Abuser
Yellow, the retriever/lab mix, that was shot in the leg with an arrow, shot in the face and head with birdshot and an attempt even made to drag the dog, all done allegedly by a 13 year old, is recovering well.
The community rallied around the tortured dog when the word got out about what was done to him. Yellow, a well loved stray by many members of the community of Dublin, GA is still just a sweet and friendly and he always was, with a tail wag for anyone and always ready for a pet.
Earlier this week he underwent surgery to close the gaping wound in his muzzle cause by a blast of buckshot to the face. A skin graft was used to close the hole and during the surgery quantities of pellets were removed although not all. Some will either stay or eventually work their way to the surface naturally.
They also close the wound in his hind leg caused by the razor sharp, three-blade hunting arrow which was embedded in the dog's bone. Yellow will also be blind in one eye. Pellets remain in the eye and they are using a topical solution to prevent infection to hopefully save the eye.
For everything that this pooch has been through Yellow greets visitors at Shamrock Pet Care and by his demeanor, you couldn't tell he was almost tortured to death just three weeks ago.
"He makes friends with everybody," said Wanda Woodard, co-owner of the emergency veterinary clinic. "He makes everybody feel like they're his owner."
In about 10 days he'll have his stitches removed. "We have to watch really carefully to make sure the skin takes," Dr. Beverly Hickman said.
As for Yellow's future, no one has come forward to claim him and although many people have offered to adopt him, a different course has been chartered for Yellow. He's going to be put to work.
Hickman and Woodard said the clinic has decided to put Yellow into service as a "therapy dog" in the Dublin area so he can visit battered women's shelters, assisted-living communities and other facilities to raise residents' spirits.
"It's so he can give back to the community that's given so much to him," Hickman said. "That way he can give back to everybody."
For a dog that has gone through what he has and has still managed to keep his loving nature, this is probably the best thing that could happen to him. He get all the love, pets and nuzzles a dog could possibly want and be an inspriration to many.
A 13-year-old Laurens County juvenile is charged with three counts of animal cruelty for allegedly shooting Yellow in the face with birdshot, in the leg by an arrow from a compound bow, and for attempting to drag the dog by the neck from behind an ATV. He'll appear in Lauren County Juvenile Court on November 11 and is in the custody of his parents for now.
Email This Post
Like this post? Subscribe to my RSS feed and get loads more!