Update to Josephine County Shelter Thefts and Dog Killings – Arrests – VIDEO
Thursday, August 28th, 2008 at 7:23 am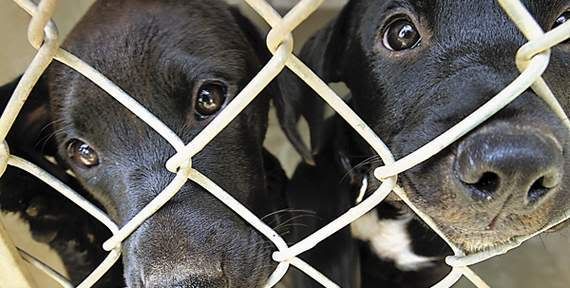 Update – 8/28/08 – Final Suspect Arrested
See Update – 9/23/08 – Animal Cruelty/Neglect Charges Finally Filed
Last weekend Josephine County Animal Shelter in Grants Pass, OR was broken in to and 11 dogs and puppies were stolen. Four of the puppies were found beaten and killed, laid out on Pleasant Valley Road near the 700 block, three dogs were found wandering right away and to date, three of the remaining four dog have been returned to the shelter.
And now the trash who cut through two layers of fence and broke into the kennels, stealing the dogs, killing the puppies and causing untold damage to the shelter, not to mention the upset to the community, have been identified and two are in custody. A third is still to be apprehended.
Harley D. Hopkins, 22, and Jacob A. Goodboe, 16, both of Merlin, have been arrested and are charged with four counts of felony animal abuse and charges of first-degree theft, criminal mischief and second-degree burglary. The third suspect, a female, is not in custody yet.
The suspects apparently came to the shelter illegally to get a chocolate Labrador mix that belonged to one of them, but had been brought to the shelter by someone else. Investigators don't know what spurred them to extend their crime spree to numerous other dogs, including those that were killed.
The shelter has been plagued by break-ins although no one have been so depraved as to kill the defenseless, innocent animals. One thing that has come of this despicable act, the shelter will be getting some donated surveillance equipment that will hopefully be effective in stemming or eliminating future break-ins.
Josephine County Animal Shelter – Arrests Made
The final suspect in the shelter thefts and puppy killings has been arrested, another juvenile; 16 year old Holly Hopkins. She turned herself into police yesterday.
Josephine County District Attorney Stephen Campbell anticipates Harley Hopkins and Jacob Goodboe will each be charged with seven counts of Burglary 2, one count of Theft 1, and one count of criminal mischief. Campbell says that both had their felony animal abuse charges dropped today due to lack of evidence, but says those could be added again in the future.

Holly Hopkins is expected to be charged with seven counts of Burglary 1, one count of Theft 1, and one count of Criminal Mischief.

Harley Hopkins is a former student of North Valley High School, and Goodboe is currently enrolled at the school.

Campbell says he will determine over the next 30 days if Goodboe will be charged as an adult. (KDRV)
Thankfully for the Josephine County Animal Shelter, the community has rallied. Like many public agencies in Southern Oregon, the shelter has been hit hard by cutbacks in federal aid to timber-dependent counties.
Public Health Director Belle Shepherd said that the animal control agency had a $478,000 budget two years ago, and now it is $271,000.
Security will soon be installed at the shelter. A former vet tech and owner of a pet-sitting business, Kim Wilson, raised more than $500 in cash donations to have a security system installed.
Individuals have also offered donations to the shelter and Merlin Moose Lodge and a local store set up a bank fund that raised $1,500.
And hopefully all these miscreants will pay the price for their cruelty. What could ever make them do such a thing when their initial intention was to rescue a dog that belonged to one of them is just beyond my comprehension!! Two of them may be juveniles in age but they certainly aren't children and should not be treated as such. To brutally kill such defenseless and innocent babies shows there is something seriously wrong with them and it's not something that is going to get better over time, only worse!
Email This Post
Like this post? Subscribe to my RSS feed and get loads more!