Update to the Disabled Vet Mows Lawn Post
Thursday, May 17th, 2007 at 10:13 am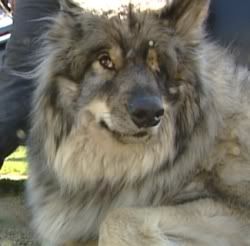 This story touched my heart as it did for many! I've been keeping an eye out since my original post – Disabled Vet Offers to Mow Lawns to Fund His Dog's Surgery – for any updates about Richard Reister and David, his beloved canine companion.
Came across a wonderful story this morning and it looks like a miracle of love will rescue David from his pain. Since this past Saurday people have been contacting Reister – people from places like Chicago and St. Louis, who don't want their lawns mowed. They simply want to donate.
Reister said that originally when the story ran he just thought it would help him find more customers to mow lawns for so that he could work to raise the money he needed for David's hip replacement surgery.
"Last week, he'd made about 20 bucks towards his goal of $8,000. By Wednesday night, he had nearly $800 in his hands, with no idea how much more was coming in the mail. One man in Iraq is sending him $200– $100 in honor of each of the man's two dogs.
"I didn't expect this kind of response. I've already burned two batteries on my phone. I've been brought to tears many times when I've answered some of these calls," Reister says."
It looks like David will be able to get his surgery. Then will come the long road to recovery.
Unfortunately for Mr. Reister, he was injured a couple of days ago, some broken bones, when his mower 'bucked' him off after getting tangled in some thick grass, so the doc says he will have to take it easy and limit what he does.
Lucky for Reister and his dog David, there are no limits on how many people will be moved by their story.
If you'd like to donate money to Richard Reister's dog David, you can mail checks to:
Richard Reister
1726 W. Brady Street
Chesaning, MI 48616
Email This Post
Like this post? Subscribe to my RSS feed and get loads more!