As I told you on Friday, Tony Taylor, 34, of Hampton, Virginia, entered a guilty plea this morning in U.S. District Court to conspiracy to travel in interstate commerce in aid of unlawful activities, and conspiring to sponsor a dog in an animal fighting venture. Sentencing is scheduled for December 14.
Tony Taylor says he was not promised any specific sentence in return for his cooperation with the government. Vick and two other co-defendants pleaded not guilty last week to similar charges.
Looks to me like the figurative noose around Michael Vick's neck is getting tighter and tighter every day! Vick's attorney read a statement after his plea hearing;
"I take these charges very seriously and look forward to clearing my good name," Vick said in the statement, which Martin read to reporters. "I respectfully ask all of you to hold your judgment until all of the facts are shown."
What kind of a spin can a person put on the facts that will clear Vick's 'good name?' And will Purnell A. Peace, 35, of Virginia Beach and Quanis L. Phillips, 28, of Atlanta, be next in line to plea out leaving Vick to stand alone? Time will tell!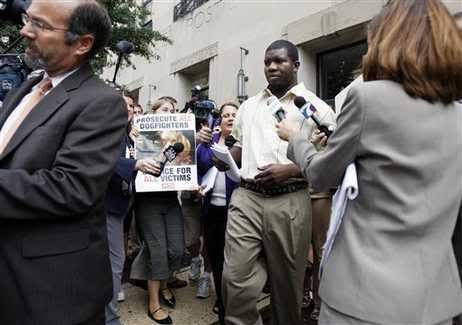 Taylor becomes the fifth prosecution witness, and possibly the most damning, who will finger Vick as a major figure in the dog fighting underworld.

Vick also faces a "superseding indictment," which usually means additional witnesses and additional charges on top of what he's already been charged with.

With each new revelation, it appears more and more likely that Vick is in serious jeopardy of spending what should be the prime of his career behind bars. And if that happens, he will become one of the most tragic figures in NFL history, brought down by his own stupidity and arrogance. (Creative Loafing)
The indictment alleges that in 2001 Taylor "identified" a property in Smithfield, Va., that was subsequently purchased by Vick as "the main staging area for housing and training the pit bulls involved in the dogfighting venture."
It also alleges that in 2002 Taylor "executed at least two dogs that did not perform well in 'testing' sessions."
"You're pleading guilty and taking your chances, right?" U.S. District Judge Henry E. Hudson asked Taylor.

He responded, "Yes."

Taylor had the same answer when Hudson asked: "You have agreed to cooperate fully with the United States, is that right?"

Taylor faces a maximum of five years in prison and a $250,000 fine but likely will get less under federal sentencing guidelines. The guideline range will be determined by court officials, and Hudson can depart from that range if he finds aggravating or mitigating circumstances. (Houston Chronicle)
Tony Taylor, one of four men named in a Federal dogfighting conspiricy indictment, admitted to playing a major role in the enterprise and said the salient facts laid out in the federal indictment are true. That, according to the plea agreement entered Monday morning in Federal Court in Richmond. (WAVY)
"The 'Bad Newz Kennels' operation and gambling monies were almost exclusively funded by Vick," a summary of facts supporting the plea agreement and signed by Taylor states.
Taylor acknowledged in the summary of facts that he found the property that Vick purchased in 2001 for $30,000 for development into a dogfighting compound. Taylor says he maintained and trained the dogs for about three years, using his share of winnings, which were split among the partners, for living expenses.
He left the operation after a falling out with co-defendant Quanis L. Phillips and others in September 2004, according to the statement of facts.
Is Michael Vick's carefully crafted house of cards falling in around him? Does he actually see a light at the end of this long horror filled tunnel? Why did Taylor plead guilty? So many questions and only time will provide the answers.
Paul Marcus — the Haynes Professor of Law at William and Mary and author of "The Prosecution and Defense of Criminal Conspiracy Cases" — said Taylor's decision to take a plea deal "is probably making plenty of people nervous right now."

Marcus said Taylor might have taken a plea simply to avoid a high-profile trial — either because he is guilty and wants to come clean, or because he believes the evidence against him is too strong to fight. The other possibility, Marcus said, is that prosecutors offered Taylor a beneficial plea deal because he has offered to testify against Vick and the other two co-defendants.

"Often the government will offer a plea deal to the small fish in the pond because they're really going after the big fish in the pond," Marcus said. "The plea could mean nothing — that he just decided he's better of if he pleads out now. But it's not surprising to have somebody turn state's evidence, and if that's what's happening here, it changes the dynamics quite dramatically." (Daily Press)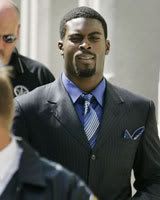 Speaking of 'spin,' looks like Vick has hired a team of public-relations professionals to paint a different picture then we're seeing now, that of a sick, twisted, money grubbing, dog abuser and torturer!
"He wants people to know the real Michael Vick," said Collins Spencer III of Atlanta-based Spencer & Associates, "not the picture that has been painted over the last couple of weeks."
When the news first broke in April, Vick immediately distanced himself from the property, saying he was never there. In Thursday's statement, he asked people not to judge him prematurely.

His public-relations team plans to reiterate that.

"He just really hopes folks will not convict him in the court of public opinion," said Spencer, a former CNN Headline News anchor. "Let it run its course in the court system."

Spencer, hired by Daniel Meachum, one of Vick's lawyers, said Friday he is one of three public relations professionals on board to "change the tide of public opinion."

"Michael Vick loves animals. He loves dogs," Spencer said. "He was raised with dogs around him. He would never do anything to harm them." (DailyPress)
To read Tony Taylor's Statement of Facts, download it HERE
To read the entire 19 page indictment, download it HERE
For more background and information as well as all up to date related posts, please see – Michael Vick and Dogfighting