UPDATE – Trashbagged Poodle Case – Justice is Served
Thursday, February 21st, 2008 at 4:17 pm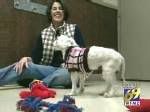 In early December I told you about the two poodles found in a trash bag in Lopatcong Township In New Jersey. One of the dogs was dead and the other, named Lockey by her rescuer, Tatum Porter was adopted by Porter.
Matt Keyser of Phillipsburg turned himself in and was charged with 10 counts, four relating to Max, the dead poodle, include separate civil and criminal counts of depriving the dog of necessary sustenance and for abandoning a domesticated animal and six relating to Locky include criminal and civil components for depriving the dog of necessary sustenance, inflicting unnecessary cruelty upon a living animal and abandoning a domesticated animal.
Additionally, the poodles supposedly originally belonged to Keyser's mother and she wanted the surviving dog back.
I just received an email from Lt. Rick Yocum – NJSPCA (www.njspca.org) giving me an update on the outcome of the case. Keyser was heard in Court last night and plead guilty to 7 animal cruelty charges. His sentence included a 10 year ban on ownership of animals, 14 days in jail, 1 year probation and a mental health evaluation. Total fines and restitution $5000.00 and Lockey stays with Ms. Porter.
While I, along with many others, may have wished for a harsher sentence, this is something and makes a point.  The most important thing is that Lockey, after all she went through, gets to stay with Ms. Porter and have a wonderful second chance at a life.
Thank you for the update Lt. Yokum, it's nice to know that sometimes the 'bad guys' do get punished!  Guess Keyser is thinking that $1300 wasn't such a high price after all to have the sick dogs taken care of.
Email This Post
Like this post? Subscribe to my RSS feed and get loads more!