Vet Arrested for Punching 5lb Dog
Monday, June 11th, 2007 at 6:31 pm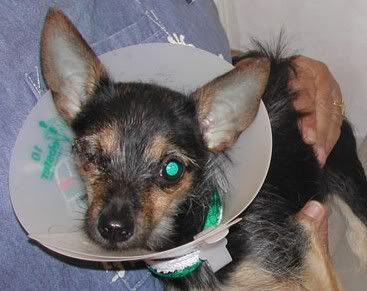 A vet is someone you're supposed to be able to trust with your dog or pet, someone who heals their ills and takes care of them. So how do you feel when the vet turns out to be one of the 'bad guys', one of the abusers? To me, it's beyond shameful and this just may be the case with Dr. Joshua Winston a Sun City West veterinarian in AZ.
Winston was arrested on suspicion of punching a five-pound Chihuahua five times in the head and faces charges of animal cruelty and theft, according to a prepared statement from Maricopa County Sheriff's Office.
Winston allegedly struck the Chihuahua's head five times and dislodged the dog's eye on June 4, according to the statement. The dog needed corrective surgery after the incident, according to the statement.

Two veterinary technicians witnessed the abuse and said that the uncooperative dog angered Winston, according to that statement.

"My policy dictates that people who abuse animals, regardless of their position, go directly to jail," said Sheriff Joe Arpaio in the prepared statement.

Winston also faces theft charges from an incident earlier this year. The sheriff's department said Winston was supposed to vaccinate a feisty Neapolitan Mastiff, according to the statement. Winston put the medication down the sink, instead of vaccinating the dog, and charged the dog's owner $80, according to the statement.

"Vets are good people who love animals so I hope that this is just an isolated incident," Arpaio said in the statement.

Winston worked as the only doctor at the Sun City West Animal Hospital, near West Camino Del Sol and NRH Johnson Boulevard.

No one from the animal hospital was available to comment. (AZCentral.com)
Did he do it? If so, how could he do it?? A doctor entrusted with the care and safety of this tiny little dog! What do you think??
********
UPDATE 6/20/07 – Please be sure to take a look at the update on this story – Dr Joshua Winston – the Other Side of the Story.  Hopefully this side will get as much play in the media as the original story!! 
Email This Post
Like this post? Subscribe to my RSS feed and get loads more!