Vet charged with 7 Counts of Animal Abuse
Thursday, August 9th, 2007 at 6:30 am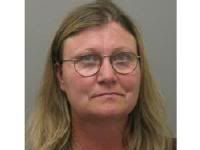 It it just unbelievable to me when a doctor charged with what is a sacred duty to save and help and cure, abuses and hurts and kills! That's just the case with Georgia Wilson, 43 of the 6100 block of Illinois Route 162, Maryville, IL. She's a vet at the Webster Groves Animal Hospital and she been charged with 7 counts of animal abuse and three counts of violating owner's responsibility.
On August 4 when police returned an escaped horse they came across a grisly sight! Seven dogs, three dead and the four living, dehydrated and malnourished in weed infested kennels and three horses neglected and malnourished. Their water buckets were filled with larvae infested water.
Wilson had went on vacation on July 26 and left the animals in her daughter's care. Charges are pending against her because it's obvious that she didn't adequately care for the animals but it's also obvious that this neglect has gone on much longer.
Wilson's biography on the Webster Groves Animal Hospital Web site lists one of her interests as "breeding, showing and training purebred Chesapeake" dogs
Wilson was taken into police custody and her bond set at $100,000.
Obviously this is not someone who should be trusted to take care of anyone's pets or animals considering the neglect in which she leaves her own! This is a person who is supposed to be trained to care for animals and she kills them! What an atrocity!
Email This Post
Like this post? Subscribe to my RSS feed and get loads more!