Vet Vindicated! Joshua Winston Cleared of Charges
Friday, September 28th, 2007 at 1:55 pm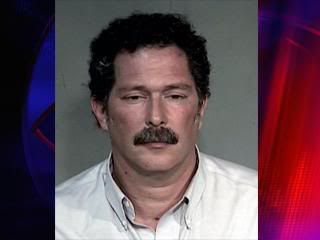 Dr. Joshua Winston, Sun City veterinarian, accused of punching a Chihuahua in the face 5 times and dislodging its eye on Jun 4 and indicted on felony animal cruelty in July, has been cleared of charges.
In a 5-2 decision, the Arizona State Veterinary Medical Examining Board agreed last week there was no evidence that Dr. Joshua Winston had acted unprofessionally and they found no signs of animal abuse or malpractice. They dismissed the animal abuse complaint against him.
Following is the rest of the story but please be sure to read all the way through 🙂
Although the veterinary board dismissed all claims against Winston, the criminal case against him is still active.

Maricopa County Attorney Andrew Thomas called the board decision "disappointing and contrary to the weight of the evidence" and said his office will continue to prosecute Winston.

Jones said that five of the nine board members voted in favor of Winston, two voted against him and the remaining members were absent.

Four witnesses – two in favor of Winston and two against – were interviewed, as well as one medical practitioner, one forensic-evidence specialist and two ophthalmologists, said board Chairman Richard D. Crisler, who voted in favor of Winston.

Addressing how the dog's eye was dislodged, Crisler said, "It does happen when you restrain the little dogs. They get pressure on the sides, with no physical harm."

Crisler said there was ultimately no indication of bruising or any other injury that would be associated with hitting.

Winston, who had been advised not to elaborate on the case or the hearing, said, "(The board) saw what they saw, and I'm just glad they saw what I saw. I can't say much more. . . . It's been a really difficult time for me."

Tracey Westerhausen, Winston's lawyer, released a statement: "We're very relieved that once someone looked at all of the evidence, they were able to clear Dr. Winston's name." (The Arizona Republic)
I would like to post a comment from Donna that was left on another story I did on Dr. Winston telling 'the other side of the story.'
I would like to give all of you a follow up on this. We went to Dr. Winston's hearing before the AZ Executive State Board — they dismissed ALL charges against Dr. Winston without violation. Within the testimonies of all parties involved – there were many things uncovered.

One — Linda was tormenting the dog with a rabies pole prior to Dr. Winston taking Bella out of the cage prior to surgery. He took Bella out of the cage without incident – though she was scared – she was fine. It was when Linda appeared in front of her that she went nuts. Sr. Winston – holding the dog properly – so she would not get injured – was moving with her. Because of the pressure building up behind the eye – the eye prolapsed. (somewhat similar to us throwing up and breaking a blood vessel) – THROUGH FORENSIC EVIDENCE – it was verified that she WAS NOT HARMED like these girls are saying.

They stated that he hit Bella 5 to 6 times on the side of the face. Folks – I have the police reports – along with – not one – but 3 vets who stated their was NO BLUNT FORCE TRAUMA TO BELLA – if Dr. Winston would have hit this dog like these girls are saying – SHE WOULD BE DEAD!

All three vets – 2 by the way are board certified ophthalmologists – even stated this was unfortunate – but not even a slightest muscle tear/bruise was found behind the orbital – and the muscle attached. In reality – I feel – my opinion for what its worth – that Bella would have been fine if Linda did not hurt and antagonized this dog prior to surgery.

None the less – forensically – there is NO DAMAGE to Bella – and she has gained 100% eye sight and full recovery. My question to all of you is this?? Why isn't Linda being arrested for animal cruelty?? Why aren't these 4 girls being held accountable for their actions in all of this??? I hope and pray that Bella's mom reads or hears about this – and understands and knows this was an unfortunate incident – and that Linda and the other girls owe her an apology for putting her through all of this.

As far as the vaccine story goes – these 4 girls have one saying he "shot it in the air" – "shot it in the trash" – "shot it down the sink" — it has gone from one vaccine to 3 vaccines – WHICH IS IT GIRLS?? When one lies – it's hard to keep up with their own stories — anyhow – Arlene – the ex office manager – wrote a letter to the AZ State Board and states that one of the girls who still work for Dr. Winston – was holding this mastiff – NOT SO FOLKS! She wasn't even in the building when this dog came in — as a matter of fact – this particular dog – all of the girls are afraid of – so – you piece together the lies that were told – and this man's reputation ran through the mud of the media!! UNFAIR – AND I AM OUTRAGED that these girls are getting away with their part in all of this. They are malice and were out to "get him" as the husband of one stated to this office…..

Dr. Winston is a fair – kind – wonderful man – and I have NEVER seen him loose his temper with any animal he takes care of!!

YOU BE THE JUDGE – BUT I ASSURE YOU — none of what was reported is true!
I have also gotten quite a few email from people attesting to what a wonderful vet he is and how they would not hesitate to stand up for him.  Compared to the comments from people who do not know him and have never met him, these hold a great deal more validity.  I have not gotten one comment from anyone who actually knows him who has one bad word to say about him.
One thing we all need to keep in mind is that the media has a job to do and one of the ways they do it is to 'sensationalize.'  Far too often people are quickly found guilty before they have a chance to say a word and it is easy to jump to conclusions with the often slanted information we are given.  I try to always be open to at least listening to both sides of a story and sometimes even actively searching it out.  Based on everything I have heard from people who have stood up for Dr. Winston, I applaud the decision the board came to and hope that he can move past this.
Email This Post
Like this post? Subscribe to my RSS feed and get loads more!