WARNING – Dangerous Dog Toy! Pimple Ball with Bell by Four Paws, Inc.
Friday, August 22nd, 2008 at 7:50 am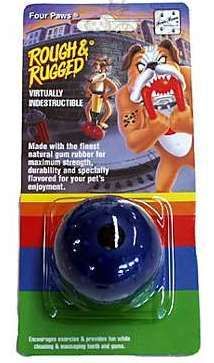 There's a warning and horror story out on a specific dog toy called the Pimple Ball with Bell by Four Paws. This is not a joke.
I'm going to give you just a brief overview.
A ten year old retriever, Chai, was playing with the Pimple Ball and bit a hole in it. Because there was not adequate airflow, the dog's tongue was sucked into the ball by the vacuum created. He was rushed to the vet to have the ball removed. It was not pleasant. The dog's tongue had swelled up and due to complications. After several days under observation, it was determined that the dog's tongue would have to be amputated.
Now the dog needs almost constant care, has to try to relearn how to eat and drink, not an easy thing.
The poor dog was in continual pain but is now starting to heal but has a long journey ahead of him.
His story is not the only one but may be the most severe.
Initially the company was not at all sympathetic but since the story got out, and you know how quickly
news can make the rounds on the internet, it has now taken a second look at the toy's design and acknowledges a design flaw.
Four Paws is having retailers pull these toys off all the shelves and is asking anyone who owns one to get rid of it!
These toys come in several different colors and sizes. They have a larger hole on one side and a small one on the other. The smaller hole is the problem, it's not completely open so there is no airflow.
You can see to the right a picture of the ball the poor dog got his tongue stuck in.
You can read Chai's story – HERE. This incident just took place in June. There are pictures and video along with the very detailed story.
There is also a recent update regarding the company, Four Paws, Inc. acknowledging the problem and working to make amends, as much as anyone can make amends for a dog that has lost his tongue.
I want to thank Daniel Rechelbacher, Chai's owner, for working so hard to get the word out on this dangerous toy and in his efforts, forcing Four Paws, Inc. to acknowledge their responsibility.
And if you have this toy in your house, GET RID OF IT!!
UPDATE – 8/23/08
There was a comment posted to Chai's story about Four Paws acknowledging the problem about another dog dying from this very thing. Due to this, Daniel has decided not to accept Four Paws' offer .
Seems this also happened to another dog, Cole, in 2005, but Cole was not as lucky as Chai, if you can call Chai lucky. Cole died from his injuries.
After phone calls and letters to the company I was assured the ball design would be changed. I have copies of what I sent to them. I was told several times this was just a freak accident and I agreed but still asked they change the design so that no other dog would suffer. I hope they did not tell you this had never happened before because I can assure you THEY KNEW about the problem in 2005!

Now to see that they did not respond and did not make changes and other dogs suffered needlessly makes me very sad. These balls are not sold in any stores near me, so I was not able to check to see if they had modified the design.

My Coley boy died as a result of his injuries. He was a 5 year old bouncy beautiful lab mix that wagged his tail up till the very end when we let him cross the rainbow bridge due to the horrendous injury to his tongue.
Now Daniel wants to know if others have went through this same horrendous ordeal;
I have chosen to reject four paws offer due to the following post that arrived over last night and ask ANYONE with similar situations to contact me. We need to find out if this a repeating pattern of indifference or just complete negligence.
If you, or anyone you know, has been involved in a similar situation, please comment here or at Daniel's blog, The Chai Story.
Help to get the word out! Don't let this happen to another dog!!
If you go to the Four Paws website, you will find no mention of a recall of this product, Pimple Ball with Bell. As a matter of fact, it is still being offered!!
And if you look at the 'Legal' section of their website, you will find that they will not be liable for 'any damages whatsoever'.
In no event shall Central Garden & Pet Company or Four Paws be liable for any damages whatsoever. In particular, Central Garden & Pet Company or Four Paws shall not be liable for direct, special, indirect, consequential, or incidental damages, or damages for lost profits, loss of revenue or loss of use, cost of replacement goods, loss or damage to data arising out of the use or inability to use the Four Paws Web Site or any of our products or services. This includes damages arising from use of or in reliance on the documents or information present on the Four Paws Web Site, even if we have been advised of the possibility of such damages
And this is a company that uses the motto, "The brand you can trust"???
Email This Post
Like this post? Subscribe to my RSS feed and get loads more!