Update 3/25/09 – Jail for Man Who Dumped Starved Dog in Donation Bin
You all remember Sally, the sweet little yellow dog that had been found in September severely emaciated and dumped in a clothes donation bin in Hyde Park, NY? Well, she's quite the different girl now and have her circumstances every changed, and all for the better!!

Sally, who should have weighted about 35-40 lbs, weighed only 16 lbs when she was found inside a metal clothes donation bin in the parking lot of the Stop and Shop on St. Andrews Road. It was estimated that she had been trapped in there for about a week as temperatures soared into the 90. That she survived at all was a miracle!
The angels at Dutchess County SPCA lavished her with love and care and attention. Sally became more than just a starved dog, she became a symbol and a face of all the starved and abused dogs. She visited and showed off at Marist College where students will use Sally's example as a starting point to develop a public relations campaign to prevent animal abuse.
She helped Dutchess County SPCA host a food drive.
"Many of our animals, like Sally, have experienced terrible hunger, and at the Dutchess County SPCA, we give them a safe haven, medical attention, and good food, while they wait for a home of their own," said Joyce Garrity, executive director of the Dutchess County SPCA. "We wanted to reach out to our human friends who are hungry and help them, too. It is a good feeling when charitable organizations reach out to one another."
And now, the best news of all, Sally has a new home and family to call her own!
Sally, the terrier mix found abandoned in a clothing donation bin, was adopted by Paula Clausi-VanSteenburgh and her daughter, Monica VanSteenburgh.

They picked up Sally Tuesday at the Dutchess County Society for the Prevention of Cruelty to Animals shelter in Hyde Park.

Clausi-VanSteenburgh lavished treats on the yellow dog, while asking her to sit and quit enthusiastically jumping up on her.

"She is just going to take some time and focus," she said. "Let the games begin."

She intends to keep the name Sally, which is short for Salvation, so christened by the shelter staff because of the situation in which she was found. (Poughkeepsie Journal)
Sally is now up to 36-lbs, has been spayed and microchipped and has turned into quite the spunky and rambunctious pooch, just the way she should be.
You can check out the video HERE to see more on Sally's new family.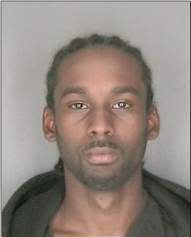 Now what about Sally's abuser? Yes, he was found which actually surprised me. Gary Lee Rhodes, 28, of Poughkeepsie was the owner of Sally and has been arrested. Rhodes was charged with one count each of torturing/not feeding an animal, abandonment of a disabled animal and neglect of an impounded animal.
All charges are misdemeanors in violation of state Agriculture and Markets Law.
The arrest was the result of a joint investigation between the Dutchess County Sheriff's Office, Dutchess County SPCA Law Enforcement Unit, City of Poughkeepsie Police and the Dutchess County Field Intelligence Group. Sounds like everyone wanted to get this piece of trash!
He pleaded not guilty in Hyde Park and City of Poughkeepsie courts to four misdemeanor animal cruelty charges.
He is due back in Hyde Park Court Nov. 25 and City of Poughkeepsie Court Dec. 8. The two courts represent the jurisdictions in which the alleged dog abuse occurred.
Although his sentence will never fit the crime, he was found and arrested and will pay some penalty. Bottom line in this case is that Sally survived the cruel abuse and abandonment at the hands of this piece of trash, she triumphed, she recovered and now she will have the home, the family and the life she so deserves – that all canine companions deserve!
So HOORAY for Sally!!!