Will Ella Ever Receive Justice?? VIDEO
Sunday, June 29th, 2008 at 10:16 am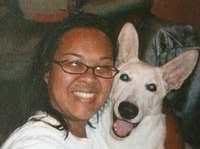 UPDATE – 12/20/08 – Christine Abrams in Jail! – You can also find links to all the background stories on this prolonged and horrific case.
Update 12/4/08 – Abrams Sentenced; Jail time and Fine
In a horrific case of abandonment and starvation, Christine Abrams, left her beautiful 2 year old white German Shepherd, Ella, locked in a crate and just walked away. In January 2008, Abrams left the house and abandoned Ella to her cruel fate of a slow and painful death of starvation.
You can almost imagine Ella, sitting, waiting, hunger and thirst gnawing at her as painfully as the isolation and loneliness. She could see and smell food just a few feet away and pushed her paws through the wire door again and again to try to reach it without success. She must have wondered where her beloved master, Christine was, thinking that every sound was her returning to let her out of this prison. Days passed, her once hopeful eyes glazed with pain and hunger, her body pestered by flies and she weakened. Hope and strength continue to dwindle as Ella's body begins to feed on itself until there is nothing more to give. Finally, mercifully, Ella's body and heart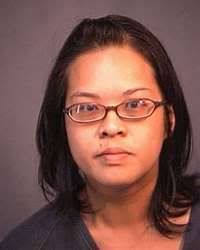 give out, the hunger, the thirst, the pain, the loneliness too much for a living creature to take.
In her cruel careless abandonment, this is what Christine Abrams subject Ella, the dog she professed to love so much, to.
In March of 2008, a neighbor, worried that he hadn't see Abrams or Ella for some time, looked in the house and saw Ella, dead in her crate. The neighbor, Robert Arishon, even more concerned for Abrams safety, called the police. When police arrived and investigated the house, seeing Ella dead locked in her crate, the flies and the smell, even outside, overwhelming, they too feared for Abrams. Worried that Ella was not the only body in the house, the police entered. No Christine, just the body of Ella, a once beautiful German Shepherd, dead and decomposed, just a few feet away from a bag of dog food.
Eventually they did find Christine Abrams, 5 hours later, at a house just six miles away. She told police she locked Ella in a crate at the old home because her new roommate did not like dogs and that she knew what would happen if Ella was left without food or water for an extended period of time. she showed no remorse for the dog's cruel fate.
Originally charged with one count of felony cruelty, punishable by up to five years in prison and a $5,000 fine, prosecutors in the case reduced the charge to a first-degree misdemeanor — which carries a penalty of only one year in jail and a $1,000 fine.
Animal advocates across the nation are angry and outraged. They have protested and written letters. And now this case take another nasty turn. The defense is trying to get all the evidence thrown out and the case dismissed!!
At court on Friday, Abrams sat stoically and her defense attorney, Andrew Stine, hammered away at the concerned neighbor, Robert Arishon, and the police. He claims that the evidence was obtained illegally without a search warrant and therefore is inadmissible.
Police should have gotten a search warrant before entering Christine Abrams' home, even though there was a "smell of death," large flies inside the house and reports from a neighbor that the 30-year-old woman hadn't been seen for two months, her attorney said Friday.

During a five-hour hearing, attorney Andrew Stine told a Brevard judge that police conducted an illegal search March 12 when they crawled through a window of Abrams' Cocoa home and found her dog Ella, a 2-year-old white German shepherd, dead in a locked crate with no food or water.

Officers should not have entered the locked home unless they thought someone inside was in immediate danger or that evidence was about to be destroyed, Stine said.

But finding the dog only heightened their concerns about Abrams' well-being, Cocoa police Officer Jeff Aiken said.

Brevard County Judge Kelly Jo McKibben did not rule Friday on Stine's motion to toss out the evidence. She will hear arguments from both sides July 4 before deciding. No trial date has been set. (Orlando Sentinel)
Will Ella receive justice? At this point, only time will tell. One thing for sure, there is no excuse that anyone can come up with that makes what Abrams did to Ella acceptable in any way! This was a cruel and heartless act by a cruel and heartless person!
I can only hope that this Independence Day frees us from idiocy and theatrics of a well paid defense attorney and brings sanity to rule, that we will be on a road to Justice for Ella, an innocent and loving dog that did no harm.
I echo; NO PLEAS FOR ABRAMS!!
Justice for Ella!!
Jail Time for Abrams!!
It's time to start punishing the criminals and stop giving them more rights than the victims ever receive!
Christine Abrams' Case in Court
UPDATE – 7/1/08 – The hearing had been rescheduled for July 9 at 1 pm.
Email This Post
Like this post? Subscribe to my RSS feed and get loads more!