Will There Be Justice for Shepp Now? VIDEO & PETITION
Saturday, October 4th, 2008 at 8:35 am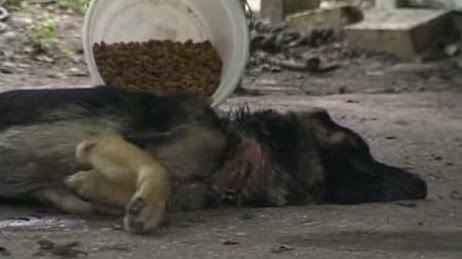 Update 6/29/09 – No Justice for Shepp, Cruelly Starved Dog! VIDEO
In Corpus Christi, TX, a horror story of neglect and abuse has been going on for some time to its sad, inevitable ending, the death of a once beautiful and innocent dog at the hands of monsters!
For more then a month, Shepp, a German Shepherd, was chained on a concrete driveway with at an abandoned home with no food, no water, with a collar embedded into his neck causing a serious wound. Day by day the dogs suffering and pain worsened with no one caring enough to do anything. Finally someone did dump some food and water for the Shepp but by then the dog was so sick and weak and in such pain, he couldn't even get to it.
After Shepp was finally rescued, a neighbor told reporters that a man in a tan colored Ford Ranger pickup dropped the dog off about a month ago at a vacant home. She said that she knew the dog was indeed thin but didn't know to what extend until this past Monday when it had apparently gotten loose from whatever means the individual had used to tie it up.
The pickup was found at another residence in Corpus Christi. The owner of the residence claimed to know who owned the pickup but couldn't remember his name despite it being her brother-in-law. She said he found the dog.
I watched the videos, tears streaming down my face to witness such incredible visible pain and could not understand how anyone could do something so cruel and heartless.
Finally, on September 16, Animal Control made it to the scene and rescued the left for dead dog. You can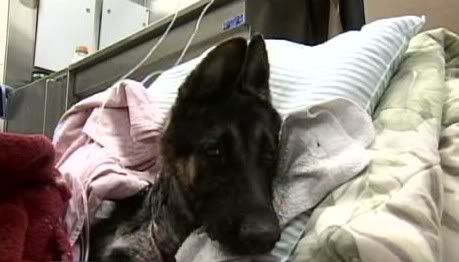 see the compassion with which they treated him, but for Shepp, it was far too late. He died that very day.
Now his abusers have been arrested and charged, but will there really be justice for this dog who was unloved and unwanted until it was far too late. He suffered beyond belief, desperately trying to hold on a survive through sheer will but his sick and broken body was just too far beyond the effort.
The owners of Shepp were 44-year-old Daniel Luna and 45-year-old Norma Luna who owned the abandoned house where Shepp was left to die so cruelly.
"It was bad to see a dog in that condition, where it no longer could help itself and needed somebody to do something immediately for it," Richard Gould, Animal Care Services supervisor, said.

Officials said the dog was extremely malnourished. He also had hook worms and was covered with flees.

Veterinarian Dr. Tom House said he was shocked by Shep's condition and that it was the worst case he had ever seen.

"He'd had the collar embedded in his neck. The collar had been removed, but it was infected and there were maggots in there," House said. "The area was an open wound, about three inches wide all the way around, the loose skin underneath was even more open than that."

"It's tragic, it's upsetting, it's frustrating when you do care about an animal, to see an animal in that condition," Gould added. (KRISTV)
The heartless pair bonded out on the same day they were arrested, guess they didn't want to miss a meal or the comfort of their home. Sadly, the most they face is a year in jail if they're convicted. That's right, a year! This is only a misdemeanor and after all… 'it was only a dog.'
This dog suffered! He lay on the concrete for so long that he had an open wound on his should that went down to the bone. This dog was tortured as surely as if someone brutally beat him. Actually a death like that would have been kinder than this long, slow, lingering death. What bastards!
If you have the heart for it, you can see more videos HERE. They are not easy to watch. You can see and feel the pain. It hurts!
You can also sign the Petition asking for Justice for Shepp – PETITION
The fires of hell will not burn hot enough for these evil monsters!
Email This Post
Like this post? Subscribe to my RSS feed and get loads more!