Will There Ever be Justice for the Katrinia Dogs Massacred in St. Bernard Parish? VIDEOS
Sunday, February 24th, 2008 at 12:06 pm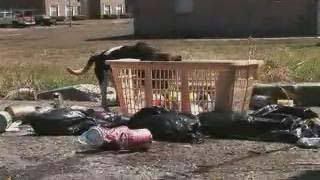 Every time I start to work on this I break down at the images and the heartbreak the owners went through and still are going through knowing that they did what they were told during Hurricane Katrina and left their precious dogs.
They were told that they would be rescued. Many were told to leave their dogs at several schools around the Parish. They were tortured and massacred. Dog were shot in the street while their killers laughed and joked. Much of this is caught on tape and deputies even admitted to killing dogs. Of course they said it was for humane reasons…. so why were they laughing? You can see the video below.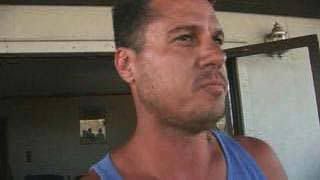 Two deputies, Michael Minton and Clifford "Chip'' Englande, were even indicted in November 2006 on felony aggravated cruelty to animals charges stemming from the fatal shooting of dogs on the streets of St. Bernard in the days immediately following Hurricane Katrina.
For more background information and a timeline, see Pasado's Safe Haven.
Sadly, in January of this year, citing insufficient evidence, new state Attorney General James "Buddy" Caldwell has dropped animal cruelty charges against two men accused of killing stray dogs while working for the St. Bernard Parish Sheriff's Office in the chaotic days after Hurricane Katrina.
The indictments, which were obtained by Caldwell's predecessor, Charles Foti, were partially based on jerky video shot by a Texas photojournalist that shows a black Labrador lying mortally wounded on a Violet street as two civilian vehicles commandeered by the Sheriff's Office drive past.
See Video Below Which Included Noted Footage – NOTE – GRAPHIC
)
Shootings not shown

Minton was accused of shooting the dog while standing in the back of a Jeep driven by Englande, according to court records. But the recording does not show the dog being shot, and Caldwell, who was sworn in Jan. 14, dismissed the charges in a pair of letters filed Tuesday in 34th Judicial District Court in Chalmette.

"Despite the existence of probable cause for arrest and sufficient evidence for a grand jury indictment, considering all the facts and circumstances in this matter there is insufficient evidence to prove the guilt of the defendants beyond a reasonable doubt," said the letters signed by Assistant Attorney General Dana Cummings. (The Time Picayune)
Here is another video showing many of the victims of the horrific slaughter, they are GRAPHIC! It hurts to watch it and know that the men who so callously and tortuously shot these dogs, many gut shot to die a slow and painfully linger death, at walking free and have so far gotten away with their atrocious acts!
You'll see picture of many of the dogs in the loving arms of their owners in happier times and the pleas written on the walls of the school houses where the dogs were left… and you'll see the aftermath. It's not for the weak hearted. I've only been able to watch the video in bits and pieces and the tears don't stop flowing.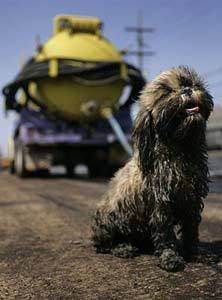 Will there every be justice for these victims and those who loved them? Thankfully some are still fighting, angered beyond belief that even in the face of what most would see as overwhelming evidence, witness and more, the case was dropped. This is not over yet and we can hope and pray that before it is, there will be justice!
Please, visit Pasado's Safe Haven and read… read it all… it will break your heart but you will see that they have been and continue to fight.
Do what you can do, raise your voice as well!
From Pasado's Safe Haven:
What you need to do:
The case could still be sent to the U.S. Attorney (Federal Court). You need to express your outrage at what has happened and beg the court to hear this case.

SEND YOUR COMMENTS!
Write from the heart and we will forward your comments to the U.S. District Court (and forward them to CNN, ABC News, and the New Orleans Times-Picayune – all media sources that covered this story for Pasado's Safe Haven).

Click here, vent (politely) and help keep this case alive!
Email This Post
Like this post? Subscribe to my RSS feed and get loads more!