With a Bark and Body Heat, A Dog Saves a Man's Life – VIDEO
Wednesday, January 28th, 2009 at 9:30 am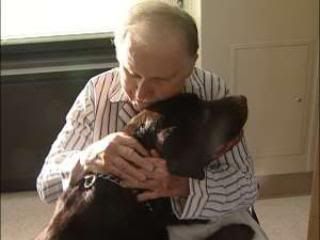 Joey, a 3-year-old Chocolate Labrador is a typical dog, frisky and playful but unusually quiet.  He seldom ever barks. Now Joey is being hailed as a hero by his North Tonawanda, NY family.
When 81-year-old Ted Samborksi took Joey outside for a walk on New Year's Eve, he slipped in the snow and ice and fell and that is the last that Ted really remembers. He blacked out in the snow in the below freezing temps and lay there.
After some time a neighbor, Lisa Warning, noticed that Joey, a normally quiet dog, was barking repeatedly and that the lights in the Samborski backyard were on. She asked her boyfriend to investigate and that's when they discovered the prone man with his faithful dog by his side.
A call to 911 brought help and although Samborki's body temperature had dropped to 70 degrees in the 17 degree outside temps and his heart had to be restarted twice, he is expected to make an almost complete recovery. He and Joey, the dog who saved his life, were reunited at the hospital this past weekend and Joey is getting the hero treatment he so well deserves!
Email This Post
Like this post? Subscribe to my RSS feed and get loads more!