Woman Accused of Second Case of Animal Abuse in 2 Months
Thursday, August 9th, 2007 at 7:06 am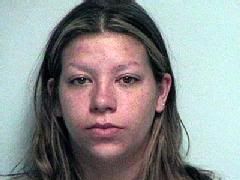 Alicia Roth, 33, of 306 Baltimore St, Middletown, Ohio, faces her second charge of animal abuse in two months! In June she and her husband were accused of throwing a puppy against a wall. They were both charged with cruelty to a companion animal, a first-degree misdemeanor, for allegedly abusing and neglecting their 10-week-old brown husky mix puppy. The puppy suffered a broken leg from the abuse and later died of parvo, a fully preventable disease, after being signed over to the humane society.
Now she is accused of leaving her 8 yr old Rottweiler locked in a cage on a porch in the sweltering heat, while she went to Tennessee. She was charged with cruelty to a companion animal, a first-degree misdemeanor and improper enclosure, a third-degree misdemeanor.
When the dog was found after days alone, languishing in 90 and 100 degree heat, it was infested with fleas and had a staph infection.
Roth calls it a misunderstanding, that she asked someone to come over every four hours to check on the dog and give it food and water. When are people going to realize that owning a pet means taking the responsibility for its welfare? They are totally dependent on their owner to care for all their needs, especially in a situation like this when they are locked in a cage. How do you explain a 'misunderstanding' to a dog locked in a cage in the sweltering heat without food or water?
"Despite all the media attention and press (that) animal cruelty is getting in Butler County, some people just don't get it," said Leland Gordon, Executive Director of the Animal Friends Humane Society.
Authorities removed the dog Sunday afternoon and it was taken to the Animal Friends Humane Society in Trenton and charged Roth with animal cruelty. She's free on her own recognizance.
This is obviously a person who has no right having animals or pets at all! She's either stupid or just doesn't give a damn and either way, after causing the death of a puppy and harming another dog, she need to face some retribution for her actions. Perhaps some time locked up in a cage would benefit her understanding!
Email This Post
Like this post? Subscribe to my RSS feed and get loads more!