Woman Arrested for Animal Abuse After Calling 911 to Catch Dog
Friday, June 27th, 2008 at 8:11 am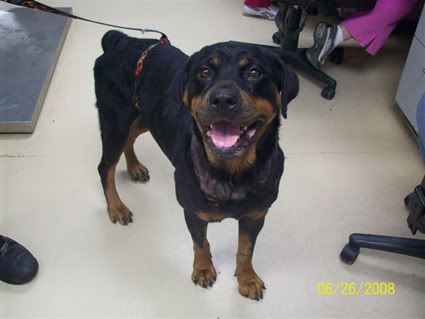 When Christina Marie Humphrey, 33, of 508 E. Virginia Ave., Tampa, FL, called 911 to catch Whitney, a female Rottweiler mix, that had gotten loose from her chain and was running around the yard, I'm sure the last thing she expected was to be arrested for animal cruelty.
When police arrived on Wednesday, they found a dog with a gaping, festering wound on her neck, who was severely emaciated. The chain she had been tethered to was very short and there was no shelter unless you counted a scrawny tree.
The officer "smelled the distinct odor of decaying flesh and Whitney had flies buzzing around her neck. She was extremely thin with hip and rib bones protruding."
Humphry told officers that the dog belonged to her boyfriend who left a month ago. She stayed out of the backyard because of fleas but her "that her 8-year-old son used a broom handle to feed the dog leftovers." A witness said that he fed the dog occasionally as well but obviously no one was feeding the dog often enough as can be evidence by the picture of poor Whitney.
Humphrey was arrested and charged with felony cruelty to animals and improper confinement of an animal.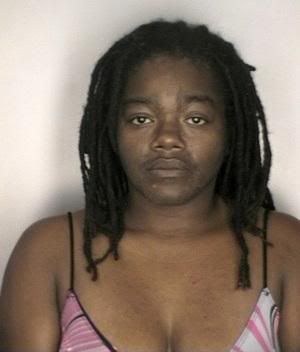 Whitney was removed and taken for emergency treatment to care for her severe neck wound. She will be transferred to Hillsborough County Animal Services. If Whitney's owner doesn't sign her over to the agency's care, animal services will petition for custody and barring further severe medical or behavioral issues, Whitney could be put up for adoption.
Humphrey was still in Orient Road Jail as of Thursday morning. Her bail was set at $2,500.
The wound on Whitney's neck was so bad that Animal Services officers had to put the leash around her back. Even starving and in pain, she still looks like a happy dog. If only people who did these things to animals could feel just a bit of the pain they put these animals through!!
Just imagine, stuck in a yard, in the heat and sun, wounded and in pain, crawling with fleas and flies, starving. She received no social interaction and occasionally had food shoved at her with a broom handle! How cruel and barbaric!!
Email This Post
Like this post? Subscribe to my RSS feed and get loads more!