Woman Fined for Dying Poodle Pink
Tuesday, March 11th, 2008 at 8:30 am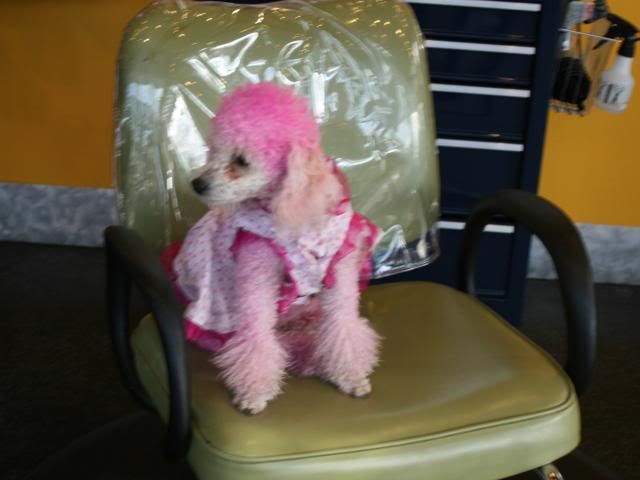 Now this is a bit of an unusual story but it caught my attention. A Boulder, CO woman is facing a $1000 fine for dying her poodle pink. Normally I would find something like this frivolous but not necessarily abusive depending on what was being use to dye the dog. In this case, Joy Douglas, Cici's owner, used either an organic, beet juice, or Kool-Aid to dye the little poodle, neither of which I can see as being problematic for the dog, and she actually had a very good reason for doing this. She dyes her dog pink to raise awareness for breast cancer. I have to admit, this is definitely a cause that I can support and agree with. Besides, doesn't look like Cici minds too much and if you can handle a pink poodle, she sort of looks kind of cute too.
Joy, a salon owner, has been dying her dog for four years now. It first started with a previous poodle, Lulu, when she took her to a fundraiser for breast cancer research and she was such a hit that Joy continued. When Lulu passed away about a year ago, Joy got Cici and started dying her fur.
The law that she is being fined for violating is the city's code, which says, "No person shall dye or color live fowl, rabbits, or any other animals." This code is actually aimed at keeping people from dyeing rabbits and chicks at Easter.
"I can understand something done in large vats and it's not done with a lot of animal care by people who don't know their animals," Douglas said. "But I have a personal connection to my animal. I would never hurt my animal. I have a business full of little beautiful animals that are treasures for not only myself, but the community."
Douglas has been warned previously about dying her pooch pink prior to getting the ticket but she plans to fight it saying the dog helps her to raise awareness for an important issue. "Cici is being stripped of her civic duty," Douglas said. "And I don't plan to take it sitting down."
The night before her court hearing, Douglas told the station she plans to put the attention she has received from getting the ticket to good use by raising money for breast cancer research.
"With every big gathering of people, there's a lot of ears and one voice that can be heard at a time," she said. "So I'm going to use my voice to raise as much funds and make as much good come out of this unfortunate incident."
So in this case, although I would normally not approve of a person dying a dog, I can't argue with her as long as no harm is done to Cici, what's the problem?  There are so many 'real' problems and issues out there that need attention and Douglas has even worked with companies about safe organic dyes for dogs so I say, just give it a rest!!  And hopefully this will raise awareness and some fund for breast cancer too. 🙂
Source – The Denver Channel
Email This Post
Like this post? Subscribe to my RSS feed and get loads more!