Woman Put Car up for Sale to Pay for Dog's Chemo Treatments
Tuesday, August 21st, 2007 at 12:52 pm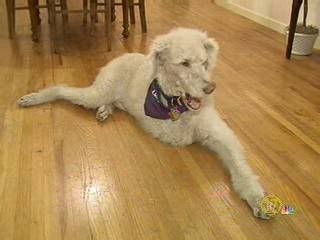 Karla Jadwin of Bakerfield put her car up for sale to help pay for the chemo treatments her 13 yr old poodle, Tark, needs to have every three or four weeks.
Tark was diagnosed with bone cancer in November after a painful tumor was found in his leg. The vet gave him two years to live. Recovering now from the amputation, he needs the chemo to have a fighting chance and Jadwin said said she didn't hesitate to do what it takes to help him, including sell her car.
Jadwin lost her husband to bone cancer and is a 17-year survivor herself so she knows all about it and wants to give Tark a chance.
"Ninety -five percent of dogs that have this disease are put down because of the incredible pain. I have a problem with that, I would choose life. And I do believe in miracles, I do believe in early diagnosis. It saved my life, and I believe there is a good chance it will save his life." said Jadwin
The treatments have taken their toll on Tark, his once white fur turned pink then fell out. It's just now coming back in.
Jadwin continues to stay positive. "I hope I'll have a three-legged dog with a lot more energy and a lot more hair," she said.
She put her Firebird up for sale for $6500 and said it will go toward the more than ten thousand dollars in medical bills. She's not looking for donations, just to sell what she has to keep her friend around as long as she can.
Karla, I wish you the best of luck and hope that you have Tark around for a good long time! With so many people who think 'it's just a dog' and those who see dogs as disposable, it's so wonderful to see those who will do everything they can for the love of their dog! 🙂
Email This Post
Like this post? Subscribe to my RSS feed and get loads more!