Woman Stabs Dog 27 Times!
Friday, May 25th, 2007 at 11:57 am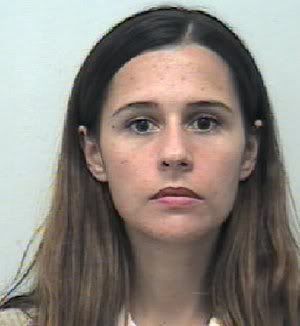 This woman, Joanne Hinojosa, 33, stabbed a 20 lb mixed breed dog, 27 times!! The dog had to be euthanized due to its extensive injuries.
Hinojosa went to the South Austin house of Reyes Martinez, her estranged husband, on Jan. 3, 2006, while Martinez and a friend were hanging out in front of the house.

The friend, Alberto Rivera, later told officers that Hinojosa yelled at Martinez and at one point took a swing at him, the affidavit said.

When Martinez retreated down the street, Hinojosa picked up Marti and carried her inside the house, the affidavit said.

Rivera "heard Marti yelp loudly" and later police discovered Marti in a pool of blood in the kitchen with a knife sticking out of her left side, the affidavit said.
Her excuse? She was angry over an argument with her now ex-husband. Her lawyer says she was suffering from 'mental stress.' That she was so distraught over her pending divorce that she simply snapped and stabbed her estranged husband's 20-pound mixed-breed dog, Marti.
She was offered a plea bargain of 8 years in prison after being arrested and charged with cruelty to animals and two counts of criminal mischief; she is accused of causing more than $1,500 in damage to the cars of her husband and his friend.
The three charges are usually state jail felonies, punishable by up to two years in jail. But the indictment against Hinojosa accuses her of using a deadly weapon, "a knife," which bumps the charge up to a third-degree felony that carries a maximum sentence of 10 years in prison. She also faces a misdemeanor count of domestic assault.
They declined the plea bargain, her lawyer saying the she should only be sentenced with probation if found guilty.
Probation?!?!
I have to agree with this comment – "Think about how long that took to do that to this animal; that's a sick individual," said Tess Lawson, a self-professed animal lover and former probation department administrator who has followed the case. "Anybody that does something like that is not well and is capable of further violence. She needs to be off the street."
"People get emotional about things like this, and I understand that, but at the same time, eight years in the state penitentiary for this crime is extreme to me," her lawyer said.
What if it were a child in the house rather than an innocent dog? What would her lawyer be saying then? Extreme? Tell that to the dog that lost its life!! What she wasn't extreme?!
Let's get real people!! Someone who can do this has a serious problem! Is this the kind of person we want walking the streets? Whose to say what may happen to the next person who causes her to 'snap'!!
Again and again it's been shown that people who do this to animals are fully capable of doing this to people!
Sources – Family Badge, 590KLBJ.com, Austin American Statesman
Email This Post
Like this post? Subscribe to my RSS feed and get loads more!