Woman Throws Puppy Under Truck in Domestic Dispute!
Friday, July 13th, 2007 at 11:26 am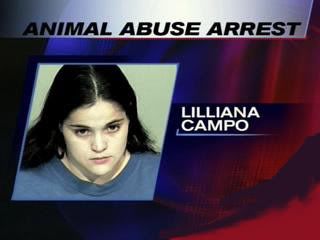 Here's yet another sad case of a person using a family pet, in this instance a 9 week old puppy, as a pawn in a domestic situation! Unfortunately this poor innocent little puppy did not survive this. The little dog was run over and had to be euthanized!
A Valley woman was arrested on suspicion of child endangerment, domestic violence and animal cruelty Tuesday afternoon after she allegedly put one of her children and a puppy in front of her boyfriend's moving pickup truck in an attempt to keep him from leaving her, the Maricopa County Sheriff's Office said Wednesday.

Maricopa County Sheriff Joe Arpaio alleged the children were being used as "pawns" in a domestic dispute.

Authorities allege Lilliana Campo, 27, of the 4100 block of West Glendale Road in Phoenix, put her three-year-old daughter in front of the pickup and then threw her one-year-old child into the truck's cargo bed, trying to make the man stop the truck. Police say when that didn't work, she threw the puppy under one of the truck's rear tires.

The man unknowingly ran over the dog, causing severe injuries, the sheriff's office said.

The puppy had to be euthanized at an emergency clinic due to the injuries.

Campo's two children were unharmed. Arpaio said they had been placed in Child Protective Services custody.

A witness on the scene pulled the children out of the truck, he said. (AZ Central)
What could ever posess someone to do something like this?? How desperate, depraved and sick this woman must be!
Thanks Linda for the head-up on this!
Email This Post
Like this post? Subscribe to my RSS feed and get loads more!