Woman Who Abandoned Pets Facing 4 Felony Animal Cruelty Charges – VIDEO
Friday, January 9th, 2009 at 10:40 am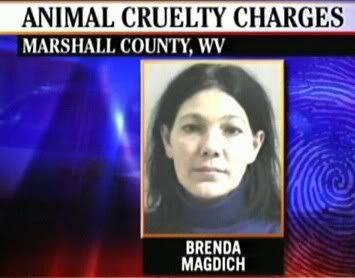 The Marshall, WV Sheriff's department have been waiting for months to arrest one animal abuser.  In August, Brenda Magdich, 39, moved out of her Marshall County home and left the area and left more than just trash in the home.
After she moved, she paid a neighbor $150 to clean some trash out and that was when one severely emaciated and sick dog was found. The dog was in the basement, no food or water, living in its own excrement among piles of garbage.
"(The dog) was emaciated. It had patches of hair missing from it. It was having seizures as our officers and animal control officer were there," said Chief Deputy Kevin Cecil.
"Prior to mine and Marshall County Animal Control Officer Mike Baker's arrival, the (first) dog had started having seizures," Marshall County sheriff's Deputy Steven White said, adding that the dog was still suffering from seizures upon their arrival. "There was no water or food for the dog. There were piles of garbage and animal feces all over the floor."
The dog was in such poor shape that is had to be euthanized. Officers investigating also found more abandoned animals in the home, a dead guinea pig, dead bird and another dog in the same condition as the first.
The second dog also had to be euthanized.
They issued a warrant for Magdich's arrest but since she had left the area with no forwarding address, they were not able to track her down at the time. Finally, this past Wednesday, they did. Magdich was arrested late Wednesday in Cameron on four felony counts of animal cruelty.
If convicted, Magdich could be sentenced to one to five years in prison and fined between $1,000 and $5,000 for each charge, according to West Virginia Code.
Now we can only hope that justice will be served for these poor innocent animals who died at the hands of this heartless piece of trash! These pets were in her care, she took the responsibility to have them then she allowed them to suffer horribly. They were dead and sick before she even moved. How can anyone look into an animal's eyes and see such suffering and ignore it? No matter how often I read these stories, I will never be able to understand that! They give so much and ask for so little in return.
Woman Moved and Left Pets Behind
Email This Post
Like this post? Subscribe to my RSS feed and get loads more!