Woman Who Give Up Car for Lost Dog Gets a Surprise
Sunday, November 4th, 2007 at 9:35 am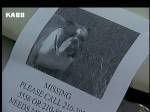 In early October, Latasha Armendariz's little 2 year old bulldog disappeared from her front yard. The San Antonioan was devastated and so were her two children. A $500 reward brought now new so Latasha changed tactics.
She offered up her prize possession, a 1996 customized Ford Mustang that she has spent thousands of dollars on and just finished paying off.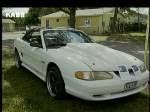 Latasha said of losing Porkchop, the bulldog, "It was hard. It was the worst feeling ever."
About the mustang she said, "I love my car, my mustang was my life's work." But to her, having Porkchop back and showing her children that family is more important than material possessions was even more important.
"I just want to instill the value in my children that family is the most important thing beyond any material item."
Shortly after promising the car as a reward for her missing canine family member, Latasha got a call from a man who said he found the dog near her house. He brought the dog over and didn't even give her his name but Latasha didn't even think twice about keeping her promise.
"I saw Porkchop and here are the keys! I didn't even look back! He ran right inside to the kids, and we all jumped on him."
Since then she has been taking the bus and getting rides from family. She said that eventually she'd replace her beloved mustang but giving up the car was an easy choice, "To have my family back again, priceless."
And now in a surprising turn of events, Latasha, who gave up her most prised possession in return for something even more priceless has received a gift that she never expected. Check out the video below for the whole story. It will definitely give you your smile for the day!
So often you hear the old cliche that what goes around comes around but too seldom do I ever actually see this happen. Well this is definitely a case of that!
Now Latasha has her bulldog Porkchop and the Armor All company, who saw the story on the news, and teamed up with Red McCombs Ford West to make it all happen. She is now the proud owner of a beautiful black mustang convertible and Porkchop also got some new toys and will be microchipped so that hopefully he doesn't get lost again! 😀
Source – WFMZ
Email This Post
Like this post? Subscribe to my RSS feed and get loads more!