A Dog's Revenge on Michael Vick, Sort Of
Thursday, August 23rd, 2007 at 7:58 am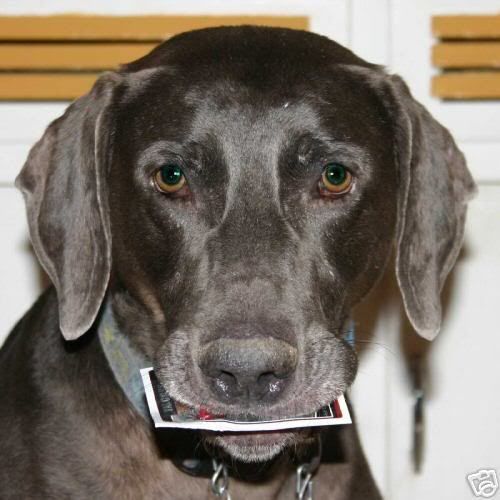 I wouldn't ordinarily bring something being auctioned off on eBay to your attention but this is just too good to resist!
There's someone on eBay auctioning off their entire collection of Michael Vick sportscards and they have all been chewed by his dog!
Rochelle Steffen of Cape Girardeau, MO has come up with a wonderful and unique way to express herself and her feelings over this Michael Vick debacle! A college student and artist, she's also a collector of sport cards and she pulled out every one of her 22 Michael Vick cards and let her 6 yr old Weimaraner, Monte have a go at them. The end result was a collection of dog eared, teeth marked, chewed cards!
Now this in itself is pretty funny but the best part of it is that whatever she makes off of this auction will be donated, 100%, to the winning bidder's animal shelter of choice. She'll even send a receipt from the shelter as proof of the donation! And of course the winning bidder gets all of the dog chewed cards. 🙂
She's gotten some wonderful feedback on this and the bottom line is that it's for a great cause. Check it out – Dog Chewed Michael Vick Cards but don't wait too long, the bidding closes on Aug 29!
It would be great if everyone could get the word out on this. The more bids, the more money, the more dogs at some lucky shelter will benefit!
Update – 8/24/07 – I came across this originally on Wednesday and there were only a few dozen bids and the the bid was only a couple of hundred dollars. I've been keeping an eye on it ever since. Yesterday the media picked up on this and it has gotten some incredible coverage which is just wonderful!! As of this morning the bid is up to $2325 after 98 bids!! Almost 20,000 people have view this posting so far. There is going to be a very happy Animal Shelter out there and some very lucky dogs are going to benefit from this! I can't wait to see how high this goes.
UPDATE – A short time after I posted the last update I went to check on the auction and found that it has been pulled by eBay! Haven't been able to find out anything but if anyone has a clue, please fill me in. With all the press this story has gotten and for such a good cause, I don't get it! – Note – There's a good chance that eBay pulled the auction due to the fact that Ms. Steffan was doing this as a charitable contribution and she did not go through their Missionfish.
UPDATE – 8/25/07 – The auction which was pulled is now back and Rochelle had to reword her listing and exclude saying that specifically says the proceeds will be going to a charity but that is still the case. Due to eBay pulling the Original listing, all the bids were lost and now the bid sits at $1,100 rather than $2350 which is where it was yesterday morning.
Please get the word out…. the auction closes 8/29, let's see if we can't get the bids back up there!!!
*** 6:30 pm – just took a look and the bid is up to $3250!!!!
 8/26/08 – 4:00 pm CST – Bid is up to $5,900!!! 😀
Email This Post
Like this post? Subscribe to my RSS feed and get loads more!